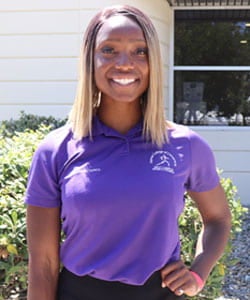 Growing up as an athlete, 12th quarter student Alecia Beckford-Stewart always had a passion to work with other athletes. From early childhood and into her adult life, Alecia has been actively involved with a variety of sports.
She grew up doing gymnastics, track and field, and dance and while in grade school she participated in all the sports her schools would allow, which included basketball, soccer and volleyball. In her late 20s she began to bobsled. She performed as a brakeman for 5 years with Bobsleigh CANADA Skeleton. In 2018 she was an Olympic hopeful. From being a fitness instructor to a strength and conditioning coach, Alecia's passion for fitness and healthcare has been unmatched.
Throughout her athletic career she knew firsthand the benefits of chiropractic care.
"I have had a chiropractor in my corner through all of my athletic endeavors. I aspire to pay that kindness and compassion forward to future athletes and the elite who entrust me with their care."
Alecia earned her undergraduate in Kinesiology and Exercise Science and a few years later enrolled at Palmer West to pursue her Doctor of Chiropractic career.
"The main aspects that attracted me to the chiropractic profession was having the ability to help others achieve goals and see improvement in their quality of life. Being in a profession that does not only diagnose a patient and send them away to do the work on their own but be a facilitator toward health and healing was an extremely appealing aspect of me wanting to become a chiropractor."
Alecia wanted to attend a chiropractic college where she could explore the chiropractic profession from all elements, but it was the reputation of Palmer College that interested her the most.
"I chose Palmer West due to its great reputation for producing some of the best chiropractors in the profession. The college has a strong link to all elements of chiropractic. It is rooted in science, supported by evidence and the program allows for growth as well as exploration of the art and philosophy in which the profession was built from."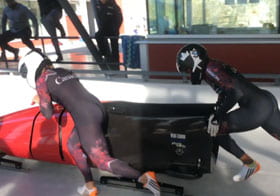 As a student, Alecia is an active member of Palmer West's most active Sports Council in the nation.
"Sports council provides the opportunity to speak about the profession with the general public, potential future patients and build the skills and confidence that's required to be successful in the future. We are able to do soft tissue mobilization, taping, stretching, exercise education and spinal manipulation, if you're at that stage in the program."
With graduation nearing Alecia feels that Palmer has prepared her to work in the world of athletics.
"Palmer has provided many opportunities and a vast tool belt which is needed to work with athletes and within the world of athletics. Being able to do an assessment of movement, create a plan and then execute those steps on the fly is a notable element that Sports Council fosters and the program implements in a great way."
Once Alecia walks across the stage to receive her Doctor of Chiropractic degree she is looking forward to working as an associate in a multi-disciplinary location that has a movement-minded patient base.
Palmer College of Chiropractic is a leader in sports chiropractic. Find out more about how you can help athletes perform their best at www.palmer.edu/sports.
Posted on May 4, 2022 by Sarah Tisinger.