… and her goal to shadow 100 chiropractors before graduation.
After earning her Bachelor of Kinesiology at the University of Nevada, Las Vegas, Ashley Borunda thought she'd be well on her way to working toward her physical therapy degree until a friend suggested she shadow a chiropractor first. "I was set on becoming a P.T. at a young age after seeing one for knee problems, but my entire outlook changed after shadowing a chiropractor. I loved the proactive versus reactive approach of chiropractic care, which provided the ability to mitigate problems," she said.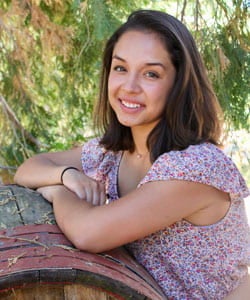 It made so much sense and left her wondering how and why she'd never been introduced to chiropractic care before!
"Chiropractic care isn't advertised or talked about much in Las Vegas. I think people have accepted the common narrative that pain is normal, especially as we age. I was one of them! I had been experiencing lower back pain, but it never occurred to me that that pain shouldn't be there. In fact, I was told it was normal for a high school student carrying a heavy backpack. We need more people who are willing to speak on what chiropractic care is and the many ways in which it can help," she said. Ashley refers to the analogy of having a leaky faucet and cleaning up the water, but not fixing the leak. "Eventually, you'll wear out."
Ashley acknowledges that spreading the word to the masses is a Goliath of a challenge "but I've never bent from a challenge and I'm super excited to get out into the world and make a difference! At the same time, I'm cognizant of what I don't know and am eager to learn. My business management professor taught me that your net worth is your network, which is why I'm involved with so many clubs and organizations on campus. Who you know is just as important as what you know, so I'm making every effort to do both!"
Ashley knew chiropractic care was her future after her first visit. "I look forward to spreading the message of chiropractic and witness the incredible abilities of the body to heal itself with the help of chiropractic care," she said.
With a goal of shadowing 100 doctors of chiropractic before graduation, Ashley is well on her way. She has already shadowed 35 D.C.s by her 5th trimester. And, while she makes the most headway toward this goal during the summer months, she schedules appointments to shadow during vacations and other travels. "I want to learn from others' successes and mistakes, work out the kinks along the way and be ready to precept after graduation so I am confident for my patients.
To prospective students, Ashley suggests talking to a couple of chiropractors in your area and hearing from patients. "Read the literature, be inquisitive, absorb it all! It wasn't until I started really diving into what chiropractic stood for that I realized it was exactly what I needed and wanted to do for myself and my community," she said.
Ashley has a few pointers for current students, too, "Keep your nose to the grindstone but don't forget your why. We're here to make an impact on lives. You get out what you put in and what you demand of it."
As her final words of wisdom, Ashley highly recommends getting involved early on with clubs that speak to you. "Nobody regrets the club life! Don't forget, your net worth is your network."
Ashley is involved in the Kairos Training Club, Motion Palpation Club, SICA, Pass tutoring program, Campus Guides, and her church.
Palmer College of Chiropractic is the first and largest chiropractic college. More chiropractors have graduated from Palmer than any other chiropractic institution. Interested in learning more about attending Palmer College? Visit palmer.edu.
Posted on May 3, 2022 by Sarah Tisinger.