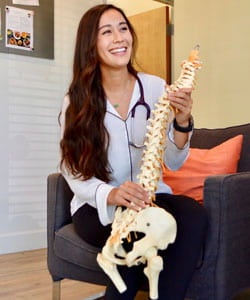 Felisha Truong, D.C. (West, '19) always knew she wanted to pursue a degree in health care. Chronic pain resulting from a gymnastics injury in her early teens led her to chiropractic, and her love for research led her to Palmer.
"I played soccer and gymnastics at a competitive level growing up, but then I had an accident where I landed on my neck during a gymnastics routine and was injured pretty seriously. After the accident I experienced ongoing neck and back pain and had to shift to playing sports at a recreational level."
Always the positive force, Dr. Truong didn't let this accident define her. Instead, she learned from it.
"It was really hard, but I'm glad I went through it. I developed a strong empathy for patients who deal with chronic pain, especially children. It was really difficult being so young and dealing with chronic pain."
She also threw herself into studying, choosing biochemistry for her undergraduate degree and eventually graduating as valedictorian of her class.
"I was working in a molecular genetics lab during my undergrad, with plans to pursue my master's degree and eventually a Ph.D. With the long hours of studying, I was relying on chiropractic care more and more to manage pain. Finally, I started to wonder, why not chiropractic?"
"My chiropractor was a Palmer graduate and had amazing things to say about the school. It was my interest in research, and Palmer's leadership in chiropractic research, that made it an easy choice for me."
"I love the process of research. People often believe that research is a very black and white process, but it isn't. You have to be creative to come up with new ways to ask questions and approach problems."
This love led Dr. Truong to Palmer's Research Honors Program and to a clerkship within the Veterans Administration (VA).
"My biggest mentor at Palmer West was Dr. Cooperstein, who is the Director of Research and Technique at Palmer West. When I was in my second quarter at Palmer, he invited me to help him with a research project. He gave me the opportunity not only to help with his projects, which eventually led to three chiropractic publications, but also to present at the Association of Chiropractic Colleges Research Agenda Conference (ACC-RAC). I was one of the youngest members at the conference, which was intimidating because I wanted to represent Dr. Cooperstein and Palmer West well, but I was so blessed to be given this opportunity to present our research findings to other researchers in our chiropractic community.
"Dr. Walsh is another mentor who had a large impact on my chiropractic education. He's a faculty member at Palmer West and is the chief of chiropractic services and residency director for the VA Palo Alto Health Care System. I worked with Dr. Walsh while completing a six-month clerkship there and had the chance to help patients who are dealing with acute and chronic pain alongside a number of co-morbidities. Completing a clerkship in the VA gave me the confidence to know that I can help a wide variety of patients."
And that she does. Dr. Truong graduated in January 2020 and began working for Bayside Chiropractic in San Carlos, California, just before the COVID-19 pandemic struck.
"I've learned a lot from being able to work through the pandemic. Our clinic has actually been busier than ever, as people have developed more aches and pains from working from home and having to deal with increased stress."
Looking back at her time at Palmer West, Dr. Truong urges students to have an open mind about their future.
"I wasn't sure what my practice style would be like until I was out in the real world. Maintaining an open mind will allow you to grow into the doctor you want to be. Go to all the different clubs, try your best to learn all the different techniques and ways you can help your future patients. My time at the VA, the Research Honors Program, and going to chiropractic club meetings truly opened my eyes to all the opportunities we as chiropractors have to help people."
Palmer College of Chiropractic is the first and largest chiropractic college. More chiropractors have graduated from Palmer than any other chiropractic institution. Interested in learning more about attending Palmer College? Visit palmer.edu.
Posted on May 6, 2022 by Sarah Tisinger.