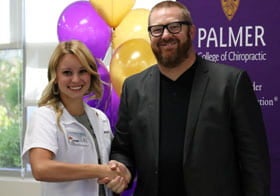 When Hayley McHugh isn't rooting for the Green Bay Packers, studying or planning Sports Council events, you can find her competing in a variety of water sports. Hayley, an 11th quarter student, hails from Shawano, Wisconsin, a small town near Green Bay. Since she was a kid, she's had a passion for sports. She learned how to water ski when she was only eight years old and has been competing since she was 13.
Hayley joined the local water ski club, the Shawano Ski Sharks and began honing her talents. As she got older, she expanded her skills to include doubles, trios and ballet skiing. She even helped the Sharks set Guinness World Records.
"Breaking our first record was unbelievable. I was so fortunate to be able to participate in something so amazing! The first record attempt was in 2016, in Rock Island, Illinois. I was invited down to the second attempt in Winter Haven, Florida in 2017, where we broke more records! Then this fall in Rock Island, Illinois we broke two more records. Guinness has given one seal of approval and the other is pending approval. The process takes a while. I currently hold three Guinness World Records in various events for show skiing."
Being an athlete, Hayley had multiple injuries and always sought the help of a chiropractor. "When I was growing up, I went with my parents to all their chiropractic appointments, so I was never afraid of the chiropractor. It wasn't until I hurt my lower back water skiing when I was 14 that I actually started getting adjusted. After having great success with my own chiropractic treatments, I decided at 14 years old that chiropractic was the career path for me."
"My experience at Palmer West has been nothing but amazing. I one hundred percent believe this is where I was meant to be. I wouldn't trade it for anything. Everyone was so welcoming and helpful. I immediately knew this was going to be my second family. I think Palmer West has given me more opportunities than I ever imagined. I love Palmer West's Sports Council! I came into school without a huge idea of what sports chiropractic was and quickly fell in love with the Sports Council program. Last year I served as one of the Sports Council Event Coordinators and now I'm the Sports Council president for the 2019-2020 term. I've learned from so many amazing doctors and tips and tricks for working with athletes in the future. I've been very fortunate for that experience! All the things I've learned inside and outside of school have been extremely beneficial and they're all things I can apply to my future practice."
Posted on May 12, 2022 by Sarah Tisinger.