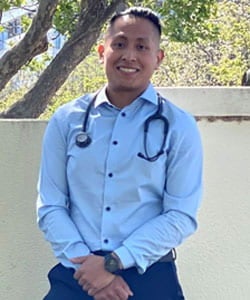 Palmer West student Oscar Campos is on a mission. His story starts in the rural farming San Joaquin Valley, which is also where he wants his story to end up!
Extremely passionate about his community and helping its underrepresented and underserved local residents, Oscar wants to revolutionize public health and make it more accessible to all people. "I grew up watching my immigrant parents working in the fields and saw how inaccessible health care was at a young age," he recalls.
It's no surprise that he's now a part of a program designed for the sole purpose of building diversity of the integrative medicine research workforce to advance health equity. Thanks to Palmer's Week at a Glance emails, Oscar learned of their new IHEAR (Integrative Health Equity and Applied Research) initiative. There was no doubt in Oscar's mind that he needed to be a part of it. He knew immediately that it was for him.
The eight-week NIH-funded program for interprofessional, pre-doctoral health professions students focuses on integrative health equity. This is an emerging field focused on applying integrative approaches to improving health among underserved and vulnerable populations and testing models to improve access to integrative medicine in inadequately resourced settings.
IHEAR includes:
Instruction in the science of social health and health care disparities and the role of complementary and integrative health approaches in advancing health equity
Development of foundational research skills (e.g., formulating research questions, selecting research methods, interpreting evidence)
Participation in mentored, applied research projects
Only one or two applicants from each discipline (all predoctoral health profession students) are accepted, so when Oscar applied and was accepted, he was astounded! Being part of a brand-new program, Oscar has the opportunity to serve in a role no other chiropractor has before.
He is most excited about like-minded, interprofessional students coming together for the same purpose of building health equity affordably. He aspires to empower and educate the underserved and underrepresented communities, to make the health care system more accessible and affordable, and to bridge the gap between health care professionals and fill the numerous health-care gaps.
Read about more experiences from Palmer College of Chiropractic students. 
Posted on May 6, 2022 by Sarah Tisinger.