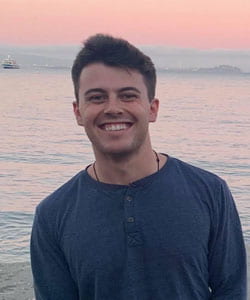 Robert "Robbie" Butler, D.C., (West, '20) will be joining the VA Palo Alto Health Care System Chiropractic Residency Program this July. This program prepares chiropractic residents for clinical practices in hospitals or other medical settings.
At the start of Dr. Butler's academic studies at Palmer West, he never thought that he would consider any hospital-based positions. "Honestly, I always thought I was going to open up my own sports-based practice."
One year after being on campus, Dr. Butler joined in on a talk with his peers who were completing a clerkship rotation at the VA. During that talk, he discovered the opportunities the VA offered.
"They talked about the population in which they served; the sacrifices patients made resulting in the pain they were dealing with. It really hit me that this is where I wanted to make an impact."
As the quarters went by, he developed more knowledge and a greater interest in the VA through other Palmer West alumni who shared their experiences about the VA with current students. That cemented the route he wanted to take.
"When I listened to former Palmer West greats like Dr. Bill Morgan (West, '85) speak about the need for MSK care for veterans, and Dr. Anthony Lisi (West, '96) talk about the growth of chiropractic services in the VA, and after taking a class with Dr. Robert Walsh (West, '95) that focused on interdisciplinary care; that is what inspired me to pursue a position at the VA."
During Dr. Butler's last 6 months at Palmer West, he applied and was accepted into the VA clerkship program working closely under Annie Babikian, D.C., DACBSP®.
"I spent six months under her and was able to accelerate my learning curve for clinical care. She also comes from a sports background and I loved the approach she took to enable patients with complex cases through encouragement and active care. After having a taste of clinical care at the VA, I knew I had to have more and set out aiming for the residency program."
In this upcoming role, Dr. Butler is looking forward to providing clinical care and is eagerly anticipating the "exposure to other providers in rotations such as through neurosurgery, orthopedic surgery, physical medicine, rehabilitation, radiology, and even the emergency department."
"I feel I'm going to come out ready to be the best doctor I'm capable of being for my patients. The cumulative knowledge and expertise that the team there contains is immense and I was barely able to scratch the surface during my clerkship experience. I'm looking forward to being able to learn behind these people whom I continue to look up to."
"I definitely aim for a career in interdisciplinary care, and someday want to be an opportunity-creator for young professionals just like how Dr's. Lisi, Walsh, and Babikian have been for me."
Dr. Butler also looks up to many of his peers who are taking leadership roles within the chiropractic profession.
"I'm probably the proudest of some fellow classmates of mine. One being Dr. Wren Burton (West, '20). She participated in the VA clerkship experience alongside me and has been my research partner as well as a co-executive on many extracurricular club teams. She was recently accepted as the very first cohort in a new post-graduate fellowship at Harvard where she will be doing professional-related research while studying for her master's in public health. She has been an absolute workhorse during my time at Palmer West, and our relationship of pushing each other has really helped lead me to where I am today. Many other classmates have continually inspired me because of their passion for the paths they're on, and while it may be different from mine, I always have something to learn from them. I think there may be something in the water at Palmer West."
Posted on May 6, 2022 by Sarah Tisinger.