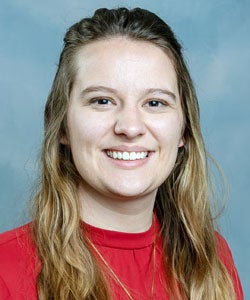 Taylr Busch recently joined Palmer College as the Career Development Center Coordinator for Palmer's Center for Business Development. The goal of Palmer's business center is to teach business skills alongside our Doctor of Chiropractic program. Through our Center for Business Development, students learn the ins and outs of establishing and growing their own practice, as well as how to thrive as an associate, all at no cost. 
Although new to the college, Taylr isn't new to chiropractic. "My father, John Douglas Busch, graduated from Palmer in February 1996 and then I was born that same year, so we say that I was his graduation present."  
Taylr graduated from Purdue University with a degree in biology. Following graduation, she worked for Walt Disney Company in Florida as an environmental educator in the parks and zoos. "This was really a dream come true for me," Taylr said. During the pandemic when the parks closed Taylr moved to the Quad Cities, since she has family in the area. 
Known for her bubbly, quirky, and enthusiastic personality, Taylr is someone easy to talk to and go to for help. "I just love working with the students and truly getting to know them so I can best help them," Taylr said.  
The business center offers modules and seminars presented by alumni guest speakers and other business professionals on subjects including finances, commercial real estate, and other various topics relating to chiropractic business. There are also career fairs and networking opportunities, a business library, and one-on-one career counseling meetings in-person. Online, services include the resume guidance and feedback, interview practice, the Lotus 'where to start a practice' map, and our Career Network.  
Taylr has big aspirations for herself and for the center. "I like to set 12-week goals to keep myself on track and specific," Taylr said. "I want the center to be livelier and more used by students. My upcoming projects are the Career Fair, to feature a book of the month in the library, and to have two to four modules or brunch-and-learns a month. I also want to promote more of the NCMIC resources. Additionally, I am always open to new ideas so if we don't offer something and you'd like to see it, come talk to me!" 
Wondering if the PCBD is for you? "Students can and are encouraged to start working with the center as early as their first trimester," Taylr said. "Getting to know me, the business ambassadors, the space, and the resources right off the bat will be the most beneficial. It's easier to develop those business skills throughout your time here. There are different resources for students at any point in the program even if you don't know what you need. Students can even just come study up there." 
However, it's never too late to work with the center. "I work with alumni all of the time, so even if you are about to graduate, a recent grad, or an alumni, we are here to help and it's never too late. Alumni know that we want them to succeed long-term as chiropractors and entrepreneurs." 
"Palmer is the standard of excellence with producing chiropractors," Taylr said. "However, what especially sets us apart from other schools producing chiropractors is our students have the Palmer Center for Business Development, giving them the resources they need to stand apart beyond their chiropractic education."  
You can find Taylr in B.J. Palmer Hall in the NCMIC Center for Business Development. Taylr describes herself as a self-proclaimed nerd. "I love everything Marvel, Star Wars and Disney (especially Mulan and Up)." Her office is easy to find, matching her sunshine personality and interests! Outside of work, Taylr is also a new dog-mom and a plant mom. 
"As a student, I know you are here at Palmer to be the best in the field," Taylr said. "When you step out of these doors, we want you to be prepared to be the best and feel optimistic about your future. Whether that's as an associate or owning your own business, we are here to make you shine after graduation by giving you the tools you need to do so. Have a game plan, but if it doesn't work out quite like you imagined, you still have a team supporting you." 
Posted on March 23, 2022 by Sarah Tisinger.