There are good things happening with the Veterans Association (Vets Club) on the Main campus. With 45 members on the roster, it's one of the largest clubs on campus and also one of the most active. Stop by the Vets Club snack bar and you'll be surprised by all the students and faculty stopping in for a snack and a smile.
Upgrades
This year, Veterans Association President Nick Meier worked with the Finance Office to make the club an official non-profit agency of the College and also upgrade its point-of-sale system to Square Register. Club members have also been working with Mike Ernster in the Facilities Department towards making some much needed renovations to the club space. Last year Facilities replaced a broken window overlooking the courtyard. Facilities also recently finalized blueprints for about $5,000 worth of repairs and improvements to the space. The improvements haven't been scheduled yet, but Meier and club President-Elect Rylan Pearson are working with Senior Director of Facilities Mike Ernster, and all three men hope it will happen soon. "Mike says it's close to being approved," said Meier. "Once it is, we just need to fit it into the budget and get it scheduled."
Giving Back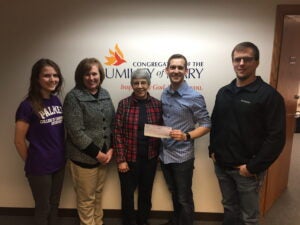 In the midst of all these improvements, the club continues to have an impact both in the community and on campus. Since the club is non-profit, all the proceeds from snack sales go to support worthy charities in the community, many of which serve veterans in need.  In November, the Vets' Club donated a total of $1,500 to Café on Vine, which provides free meals to the community, the Humility of Mary Emergency Shelter and the YMCA.
On campus, the club is always involved in Palmer's annual Veterans' Day event, and the snack bar is a favorite spot for students to enjoy a quick break between classes.  More importantly, the club provides support for student veterans and veteran family members. Study groups and club gatherings make a real difference for the military families on campus. Lastly, the club frequently donates money to help other student clubs on campus fund their events.
"I'm excited by all the good work the club is doing," says the club's Faculty Advisor Thomas Brozovich, D.C. "They've done a great job improving the snack bar, and they're making a real impact on campus."
Posted on May 18, 2022 by Sarah Tisinger.