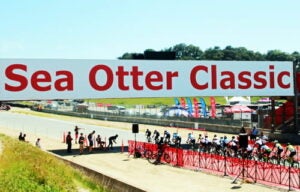 Student members of the Sports Council chapter at Palmer College's West campus in San Jose, California, along with interns from the campus-based Palmer Chiropractic Clinics, teamed up with faculty-clinicians to provide chiropractic sports care for the 16th year in a row at the 26th annual Sea Otter Classic, April 19-22, at the former Laguna Seca Raceway in Monterey, California.
Regarded as the world's largest bicycling festival, the Sea Otter Classic is a four-day event that draws approximately 10,000 fans and features an estimated 50,000 athletes who compete in a variety of cycling events, including: mountain-bike, cross-country, downhill, dual-slalom and short-track racing. Road cyclists compete in circuit, criterium, and road racing. Participants range from professional racers to recreational cyclists of all ages and skill levels.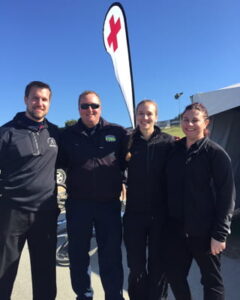 More than 80 Sports Council members participated in the delivery of care for at least one of the four days, and Sports Council clinicians included: Andrew Cohen, D.C., CCSP®  (West '04); Rhiannon Dickison, D.C., CCSP® (West '13): Tony Kearns, D.C., CCSP® (West '07); Mehdi Moossavi, D.C. (West '92); Karen Roitz, D.C., DACBSP® (West '96); and Jonathan Slater, D.C. (West '97).
"The Sea Otter Classic provides our students with a great opportunity to experience high-volume and high-intensity patient-care situations they don't typically experience in the classroom, or the clinic," said Dr. Moossavi, a West faculty member since 1993. He has served as a clinician every day of every Sea Otter Classic, since the Sports Council's inaugural event in 2003 – which equates to 66 days!
Working in conjunction with EMTs, the Salinas Fire Department, and other health providers, the Sports Council team provided chiropractic care (and minor first-aid) for approximately 400 athletes.
"I can't count how many athletes we treated who came back with a medal around their neck, and told us our care was instrumental in helping them win that medal!" said Iannick Rémillard, ATC, Sports Council event coordinator.
"The Sea Otter is one of our unique Sports Council events, because you see a lot of acute injuries, and because of the multidisciplinary dynamic of the collective group involved with caring for the athletes, and fans, which include EMTs, paramedics, ski patrol, and, sometimes local police or fire departments – which adds up to a great learning experience for anyone interested in sports chiropractic," added Rémillard.
"Palmer's involvement in the Sea Otter Classic event for nearly two decades, and how Palmer's participation helps maximize the Sea Otter experience for the competitors, has truly been amazing," said Jeffery Frost, Sea Otter Classic athlete services director. "The professional approach of the students and staff, and their tireless efforts, have become a hallmark of the Sea Otter race-experience for participants."
Posted on May 18, 2022 by Sarah Tisinger.