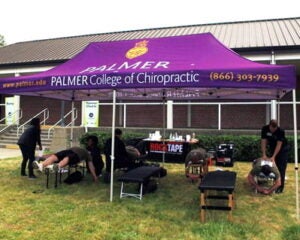 Palmer College of Chiropractic's West campus had a prominent presence at the fifth annual Valor Games Far West, a multi-sport Paralympic competition for disabled U.S. veterans and wounded, ill or injured service-members, held June 2-5 on Coast Guard Island in Alameda, California.
Introduced in 2011, the Valor Games are funded through a grant sponsored by the U.S. Veterans Administration. Regional events are held annually in four parts of the country. Athletes compete in a variety of adapted sports, including archery, biathlon, cycling, field events, powerlifting and swimming.
The Far West event is presented in partnership with the U.S. Coast Guard, the Northern California Regional Paralympic Sport Program, and the Far West Wheelchair Athletic Association from San Jose, an organization that has provided sports opportunities for individuals with disabilities since 1968.
Interns from the Palmer Chiropractic Clinics in San Jose, under the direction of clinicians Rhiannon Dickison, D.C., CCSP® (West, '13) and Tony Kearns, D.C. (West, '07), provided care for nearly half of the more than 100 athletes who competed in Valor Games Far West 2017.
Palmer's participation in the western-region Valor Games was the culmination of a year-long effort, which began when West student (and Veterans Club president) Trevor Wendel learned about the event, and subsequently met with West Campus Dean of Clinics Greg Snow, D.C., to discuss the feasibility of Palmer providing chiropractic care.
Valor Games Far West organizers were receptive to the Palmer proposal. In addition to enhancing the athletes' experience through on-site services that helped them achieve optimal performance in their events, Palmer's involvement also supports the Valor Games' mission of promoting healthy, active lifestyles for disabled veterans to achieve successful community reintegration.
"The net outcome of our participation resulted in a unique experience on a variety of levels for Sports Council participants, including the educational aspects of providing care for wheel-chair-bound patients, as well as the honor of serving these brave men and women whose athletic skills and achievements are equally impressive and inspiring," said Dr. Snow.
"One of the goals of the Veterans Club is to explore ways to reach out to the veterans in our community, and, in particular, the brave men and women whose service resulted in a disability that presents challenges in their post-military lives," said Wendel, who hosted an information table at the event with West student (and Sports Council officer) Bryanna Esquivel, each of whom also provided care for participants.
Valor Games competitors were equally effusive in expressing their appreciation for the service provided by the Palmer Chiropractic Clinics. Comments included: "This was a lifesaver, and they were very good at their practice" … "They saved me big time! Extra awesome!" … "Great addition to the event, helped us perform better in our events" … "They were very professional, very informative, and very helpful to parts of my body making me feel very, very good."
"We saw a number of patients with severe disabilities, which challenged the interns involved with the delivery of care, and offered valuable learning experiences for all the students who worked the event," said Mary-Kathryn Brazil, West Campus Sports Council executive officer.
"The team from Palmer College did a terrific job of engaging the veterans with disabilities at our event," said Pamela Redding, event director, Valor Games Far West.
"They explained the treatment options clearly, and were committed to providing top quality care to our nation's heroes.  I am very pleased with this first year of our partnership, and I look forward to continuing in 2018."
Posted on May 13, 2022 by Sarah Tisinger.