The Compliance Program reaffirms the College's commitment to conduct its operations and activities in an ethical and lawful manner, to increase awareness of such objectives and to foster a culture of compliance and accountability.
It is the responsibility of all employees and students to comply with all applicable local, state and federal laws and regulations and the policies, rules, and processes of the College.
The College's compliance program is focused on four objectives:
Prevention: steps designed to mitigate risks and to prevent non-compliance and misconduct
Detection: steps designed to discover non-compliance and misconduct when it occurs
Response: steps designed to take corrective action and remedy the harm caused by non-compliance and/or misconduct
Evaluation: steps designed to evaluate effectiveness
The "elements" below refer to the ten essential indicators by which compliance effectiveness in all areas of the College is measured.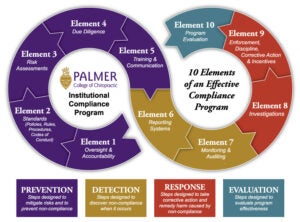 Elements of the Palmer College of Chiropractic Compliance Program
ELEMENT 1: OVERSIGHT & ACCOUNTABILITY
The College acknowledges the importance of maintaining an appropriate "tone at the top" and fosters this climate by identifying and discussing compliance issues openly and with integrity.
The College has appointed employees with sufficient authority to exercise reasonable oversight over the day-to-day responsibilities associated with the Compliance Plan and demonstrate the appropriate tone at the top to foster a culture of compliance and accountability.
ELEMENT 2: STANDARDS
Ethical and legal conduct is an important responsibility of everyone in the College community. The College recognizes compliance risks can be substantially mitigated when every employee is aware of their personal responsibilities for compliance to the success of the College as a whole. As such, the College is committed to establishing, clearly communicating, and enforcing policies, rules, procedures, practices, codes of conduct and other standards necessary to fully comply with regulations that govern the programs, activities and operations of the College; accreditation requirements; Board policy; and applicable law. It is the responsibility of all employees and students to comply with these College standards. The College's Policy Library serves as the official repository for College standards, providing a single location for the College Community to access. All members of the College Community are encouraged to review the Policy Library regularly to ensure compliance with College expectations. Palmer is committed to ensuring its policies are legally sound, current, and meet the highest fiduciary standards through periodic review.
ELEMENT 3: RISK ASSESSMENTS
The College is committed to identify and manage compliance risk proactively. Everyone has the potential to identify some level of risk within the work they perform. Employees are encouraged to share compliance and ethics concerns, either with the supervisor of the area of concern, to the Compliance Officer directly, or through the confidential reporting helpline.
The College has established a compliance risk identification and assessment process that provides for:
 

Identification of the compliance and ethics risk to monitor

Evaluation of each identified risk for potential impact on the College and probability of occurrence
Identification of appropriate resolutions to mitigate identified risks and achieve compliance and ethics risk management improvement
Designation of an individual to be held accountable for the implementation of the appropriate resolution
Follow-up status review to ensure identified resolutions are implemented and evaluated after implementation
Periodic review of the College's Compliance Monitoring Report by the Audit Committee of the Board of Trustees
ELEMENT 4: DUE DILIGENCE
The College exercises due diligence regarding hiring employees to ensure they are well qualified and have a strong potential to be productive and successful employees committed to the highest level of integrity and ethical standards in the performance of their job duties. Such due diligence includes a review of prior employment history, personal references, educational background, professional license and certification verification, criminal history and credit history when appropriate or legally required for the position considered.
The College also conducts criminal background checks on student applicants during the admissions process and additional criminal background checks at certain intervals as a condition of continued enrollment
Employees and students have a continuing duty to notify the College if they are convicted of, plead guilty or no contest to, or forfeits bail for any criminal conduct excluding any minor traffic violations.
Further, the College exercises due diligence in partnering with third parties.
ELEMENT 5: TRAINING & COMMUNICATION
The College takes reasonable steps to communicate compliance standards to its employees by conducting compliance training and disseminating job descriptions to employees consistent with their respective responsibilities. The College provides training to its administrators, employees, students and appropriate vendors and third parties to raise awareness about relevant compliance risks and encourage all employees to conduct College business ethically and with a commitment to compliance with College policies and applicable law. Compliance training is required annually during the College's specified training period as training may be different each year to reflect necessary updates. 
ELEMENT 6: REPORTING SYSTEMS
Reporting is an integral part of the College's efforts to prevent, detect and correct issues. The College encourages all faculty, employees, students and others conducting business with the College, acting in good faith, to report suspected or actual improper conduct or non-compliance. The College's Compliance Program reflects numerous intake methods, including a designated webpage, email, facsimile, anonymous helpline, and in-person reports.
ELEMENT 7: MONITORING AND AUDITING
The College is committed to periodically monitoring the effectiveness of its compliance program and activities. The College reviews elements of the program to ensure necessary processes have been implemented and are being followed, conducts analyses and tracks trends to identify challenges and opportunities to improve the program. The College also engages in ongoing monitoring of compliance activities to identify and correct issues at the lowest level of detection. Monitoring of compliance activities is typically conducted by the individuals within the department. Significant issues are reported by the College's executive leadership to the Compliance Officer and documented on the College's Institutional Compliance Monitoring Report.
Further, the College is committed to periodically auditing the effectiveness of its compliance program controls. Auditing is a formal retrospective examination of processes and/or transactions and is typically conducted periodically in areas that pose the highest risks or in response to an identified concern. Those performing audits are typically independent of and not employed in the department being audited. The College may appoint internal and/or external parties to conduct audits.
ELEMENT 8: INVESTIGATIONS
The College may determine an allegation of noncompliance requires an investigation and has implemented procedures to investigate reports of noncompliance should they occur. The College may appoint internal and/or external party(ies) to conduct an investigation. The College requires full cooperation of its employees and students in such investigations. No one other than the appointed investigator is allowed to conduct an investigation on behalf of the College.
ELEMENT 9: ENFORCEMENT, DISCIPLINE, CORRECTIVE ACTION & DISCIPLINE
The College applies enforcement of standards and imposes appropriate discipline and corrective action should compliance violations occur in a manner that aligns with established written processes and that fosters effectiveness and consistency.
ELEMENT 10: PROGRAM EVALUATION
The College takes reasonable steps to periodically evaluate its compliance program's effectiveness including but not limited to a review of each element in comparison to industry best practices.
Contact Compliance
563-884-5246
563-884-5221