Palmer's global reach
Each year, more than 80 international students from more than 20 countries arrive at Palmer, adding diversity and culture to the College and the chiropractic profession. Palmer graduates have gone on to practice in 78 countries.
Here at Palmer College, we're not settling to simply be the FIRST or the BEST. What keeps us going is our drive to succeed – all over the world.
No matter which campus you choose, you'll get a world-class education in the place that's been home to students from all over the world.
Contact Your International Admissions Counselor
Palmer Main Campus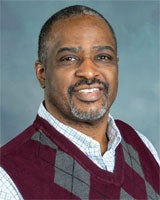 Kelan Ritchie
Ritchie_K@Palmer.edu
563-884-5743
Kelan is a Quad-City native, born in Rock Island, Illinois. He received his education at Lincoln College, where he earned an A.A. Liberal Arts degree, and Augustana College, where he received a Bachelor of Arts degree in sociology. He joined Palmer College in 1996 and has worked in Admissions/Recruitment for most of his tenure. He's helped more than 1,300 students realize their dreams of becoming Palmer chiropractors. He enjoys advocating for the college and profession to prospective students, college/university instructors, advisers, administrators, and distinguished Palmer alumni.
"To say I have a passion for chiropractic and Palmer College would be an understatement. It was chiropractic that taught me the most about myself. It's played a direct role in my own health and wellness and it has given me the clearest understanding of what the true essence of health and wellness is. Above all, it made it that much easier for me to take Palmer's mission on the road and do what I love most: representing this institution to prospective students and working closely with their support channels as they navigate their way to matriculation."
Palmer Florida
Sue Buro
Susan.Buro@Palmer.edu
386-763-2705
Sue is originally from northeast Pennsylvania. She received her education from East Stroudsburg University of Pennsylvania with a Bachelor of Science in secondary education and physical science. Sue came to Palmer in 2011, and loves assisting students as they fulfill their goal to become doctors of chiropractic.
"Palmer strives to provide students with the very best in chiropractic education, and I am so happy to assist students in any way that I can."