Palmer's global reach
Students journey to Palmer College from all over the world to study at The Trusted Leader in Chiropractic Education®. Each year, more than 80 international students from more than 20 countries arrive at Palmer, adding diversity and culture to the College and the chiropractic profession. Palmer graduates have gone on to practice in 78 countries. The College also has the world's largest alumni network, with more than 30,000 practicing graduates. This is a vibrant resource for our students and new graduates. 
Here at Palmer College, we're not settling to simply be the FIRST or the BEST. What keeps us going is our drive to succeed – all over the world.
No matter which campus you choose, you'll get a world-class education in the place that's been home to students from all over the world.
Contact Your International Admissions Counselor
Palmer Main Campus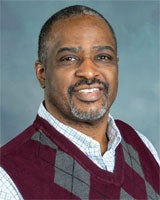 Kelan Ritchie
Ritchie_K@Palmer.edu
563-884-5743
Kelan is a Quad-City native, born in Rock Island, Illinois. He received his education at Lincoln College, where he earned an A.A. Liberal Arts degree, and Augustana College, where he received a Bachelor of Arts degree in sociology. He joined Palmer College in 1996 and has worked in Admissions/Recruitment for most of his tenure. He's helped more than 1,300 students realize their dreams of becoming Palmer chiropractors. He enjoys advocating for the college and profession to prospective students, college/university instructors, advisers, administrators, and distinguished Palmer alumni.
"To say I have a passion for chiropractic and Palmer College would be an understatement. It was chiropractic that taught me the most about myself. It's played a direct role in my own health and wellness and it has given me the clearest understanding of what the true essence of health and wellness is. Above all, it made it that much easier for me to take Palmer's mission on the road and do what I love most: representing this institution to prospective students and working closely with their support channels as they navigate their way to matriculation."
Palmer Florida
Sue Buro
Susan.Buro@Palmer.edu
386-763-2705
Sue is originally from northeast Pennsylvania. She received her education from East Stroudsburg University of Pennsylvania with a Bachelor of Science in secondary education and physical science. Sue came to Palmer in 2011, and loves assisting students as they fulfill their goal to become doctors of chiropractic.
"Palmer strives to provide students with the very best in chiropractic education, and I am so happy to assist students in any way that I can."
Frequently Asked Questions
WHAT ARE THE PREREQUISITES?
Palmer considers applicants from diverse educational backgrounds. Palmer's chiropractic program is a graduate program, so admitted students generally have significant post-secondary training. Students typically have at least three years of post-secondary training prior to gaining admission to Palmer College. Please review our prerequisite calculator for more information.
*Palmer College of Chiropractic Florida, in Port Orange, Florida requires all incoming students to have earned a bachelor's degree prior to admission/acceptance.
HOW ARE MY EDUCATIONAL/ACADEMIC CREDENTIALS (COLLEGE/UNIVERSITY CREDITS) EVALUATED FOR ADMISSION?
We prefer an International Credential Advantage Package (ICAP) "course by course" evaluation through World Education Services (WES). Canadian students are NOT required to have this evaluation; they can have their transcripts sent directly from their university to Palmer (with the exception of Quebec schools that do not provide English transcripts).
HOW MANY INTERNATIONAL STUDENTS ARE STUDYING AT PALMER?
In the 2016-2017 academic year, we had more than 165 international students pursuing their degrees at one of our three locations. These students represent more than 20 countries from around the world. Some of our students bring their entire family to the U.S. while studying at Palmer. Over the years, Palmer has hosted students from more than 70 countries around the world.
WHEN SHOULD I APPLY FOR SCHOLARSHIPS?
When you apply to the Palmer campus of your choice. If scholarships are available, the Office of Admissions will tell you when to apply as part of our international admissions process.
CAN I WORK WHILE I STUDY?
Yes. Limited campus work-study positions are available to help you offset the cost of a Palmer education. These positions are only part-time.
DO I NEED TO TAKE THE TOEFL, GRE OR GMAT EXAMS?
Students who wish to attend Palmer must demonstrate English proficiency by either coming from a country where English is the primary language or by successfully passing the Test of English as a Foreign Language (TOEFL) with a minimum score of 61 or higher on the Internet-Based test (IBT) or with an International English Language Testing System (IELTS) cumulative score of 6.5. Palmer's institutional code to receive TOEFL exam results is 6593.
Palmer College reserves the right to require additional training in English of prospective students either before or concurrently with their first two terms of enrollment if such training is deemed necessary and appropriate.
Palmer doesn't require standardized admission tests, such as the GRE or GMAT.
HOW SHOULD I APPLY?
When you are ready to begin the enrollment process, apply online. Many of our international students apply electronically and then send the supporting documents within the first few weeks.
ARE THERE ADDITIONAL REQUIREMENTS TO PRACTICE CHIROPRACTIC BESIDES GRADUATING FROM AN ACCREDITED CHIROPRACTIC COLLEGE LIKE PALMER?
In many countries, yes. In the United States, every state has a licensing board and, upon meeting the licensure requirements, chiropractors are licensed health care professionals offering primary care (i.e. a referral to see a chiropractor in the United States is not required). Read more about U.S. and Canadian licensure here.
In the United States and Canada, Palmer graduates must also pass national board examinations to practice (U.S.: National Board of Chiropractic Examiners, Canada: Canadian Chiropractic Examining Board).
Those who wish to enroll at Palmer College and aren't interested in practicing within the United States are encouraged to contact chiropractic organizations or the Ministry of Health in the country in which you wish to practice. The licensure process varies from country to country.
WHEN I GRADUATE FROM PALMER, WILL MY DEGREE BE RECOGNIZED BY MY HOME COUNTRY?
It depends on your home country or region. If chiropractic is recognized, then Palmer's degree should be accepted. Talk to your Admissions counselor to verify your degree will be recognized.