Earn your D.C. degree while completing your B.S. degree at Palmer
The Bachelor of Science Degree Completion Program, available at Palmer's Main campus, allows students to simultaneously take courses that meet the requirements of their B.S. and D.C. degrees. You'll simultaneously complete one year of the Doctor of Chiropractic program and obtain your bachelor of science degree, all while studying under many of the same professors as D.C. students.
A bachelor's degree may be required to obtain licensure in some states. You can learn more about bachelor's degree requirements through the Federation of Chiropractic Licensing Boards and view the list of states which require a bachelor's degree in order to obtain a license
How it works:
Students must have a cumulative grade point average of 2.25 or higher on a 4.0 scale and the equivalent of 45 college-level semester credits. Haven't yet earned 45 credits? Check out our 3+1 and 2+2 programs.
Transfer those credits to Palmer by applying to the D.C. Program and B.S. Program simultaneously. Your acceptance to the D.C. Program will be delayed until you complete 90 undergraduate credits.
Once you complete 90 credit hours of undergraduate study, you'll begin the Doctor of Chiropractic program.
The 90 credit hours include a minimum of 60 credit hours from freshman/sophomore (100/200) level courses and 30 credit hours from junior/senior (300/400) level courses.
The completed credits from the first year of the Doctor of Chiropractic program will count toward the completion of the last year of the Bachelor of Science degree (approximately 30 credits).
You'll earn a total 120 credit hours to complete your B.S. degree.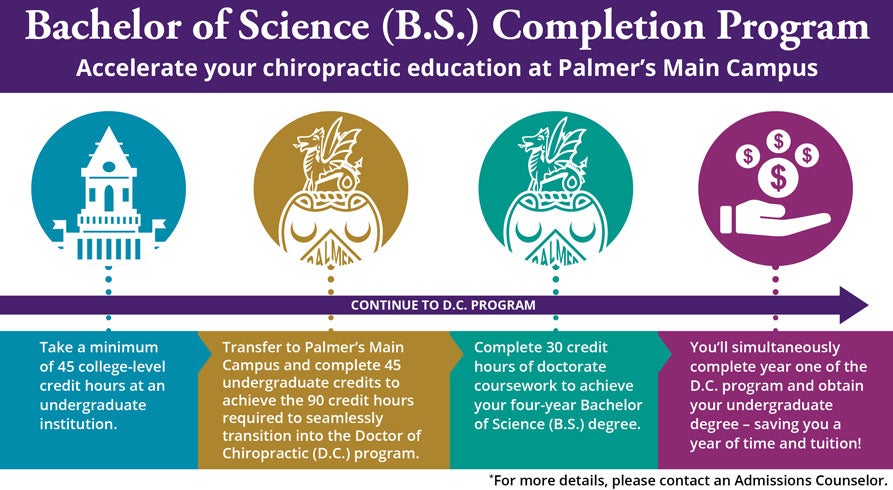 Dual-Credit D.C. Course Offerings (Applies to both B.S. and D.C. degrees)
Gross Anatomy I and II
Embryology
Organ Histology
Biochemistry I and II
Cellular Physiology
Microbiology
Physiology I and II
Endocrinology

Bachelor of Science in General Science – Main Campus Only
Application Deadline
Applications for the Bachelor of Science in General Science program can be submitted and accepted at any time. However, we recommended you apply a minimum of three (3) months prior to your desired term because your start date and financial aid eligibility may be affected by your submission date.
How to Apply
Submit the online application or mail the application to:
Undergraduate Studies Department
Palmer College of Chiropractic
1000 Brady Street
Davenport, IA 52803-5287 USA
Pay $100 evaluation and $50 application fees
Attach official copies of transcripts
(Note: Your admittance is approved by the Undergraduate Program Oversight Committee.)
File Intent to Graduate 
Pay $100 graduation and records fee. Complete the Intent to Graduate form for final approval of the B.S. degree.
We recommend the Intent to Graduate form be completed no later than the end of ninth trimester of the D.C. program. This will ensure concurrent graduation.
Note: Students are allowed one year after their D.C. graduation to complete all requirements.
If you have questions, please email Annette Venhorst or call her at 563-884-5867.