A modern chiropractic campus with miles of pristine beaches just minutes down the road – welcome to Palmer Florida.
From anatomy labs outfitted with cutting-edge technology to a clinic system serving a steady stream of patients, you'll have everything you'll need to become a leader in the profession.  
The newest Palmer campus, Palmer Florida, opened in 2002. Nearly 900 students are enrolled at Palmer Florida.  
Wonder what it's like to be a student at Palmer Florida?
View our walking tour video for a preview of campus!
Student Life
Continue learning and socializing outside the classroom and clinic through one of our student-led clubs. From technique clubs to intramural sports, student life at Palmer enhances our academic curriculum – with some fun along the way.  
Beyond campus, our students enjoy outdoor recreation opportunities and local attractions. Here, you're just 15 minutes from the beach and an hour away from Walt Disney World, with pro-sports and countless other attractions within reach. Nestled in Port Orange's City Center, you'll enjoy living in a family-friendly suburban beach town! 
Explore Palmer's clubs and organizations and things to do in the surrounding area.  
Campus Highlights: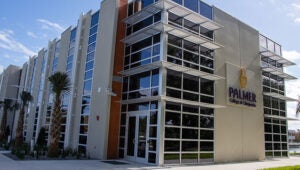 Brand-New Academic Spaces: Palmer Florida's newest academic building opened in 2022 and provides students four lecture halls, four technique labs, an anatomy lab, an active/passive care lab,  and close proximity to faculty, with offices in the building.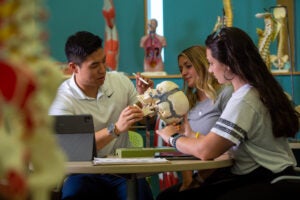 David D. Palmer Health Sciences Library
Offers the largest collection of chiropractic works in the world and is a networked system of three campus libraries, with the main library on Palmer's Main campus.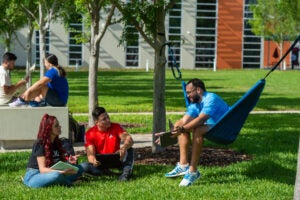 Courtyard and Outdoor Seating Areas
With multiple courtyards, patio seating and large grassy areas, there's no shortage of outdoor space to study or relax in! Eat your lunch by the fountain, get a game of football going, or relax in a hammock! Enjoy the Florida sunshine year-round!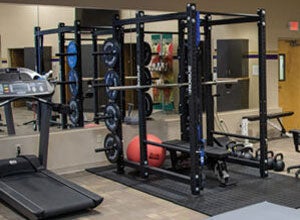 Sports & Rehab Center
This 5,000-square-foot facility allows for the care of athletes of all skill levels from the novice, weekend warrior to the professional and Olympian levels. The Palmer Chiropractic Rehabilitation and Sports Performance Center, along with the specialized faculty that oversee it, will help patients reach their athletic goals.