Reimagining the Student Learning Experience
Student learning and success drives everything that we do at Palmer College. That's reflected in the more than $35 million in campus renovations, starting in 2017 with the R. Richard Bittner Athletic & Recreation Center, up to the completion of the Experiential Learning Center in 2022. These extraordinary enhancements help ensure we offer a state-of-the-art education to prepare the best chiropractors in the world.
Palmer College is the first and largest chiropractic educational institution and is recognized as The Trusted Leader in Chiropractic Education®. Here, students study in a modern learning environment among the history of the founders of the profession.
PALMER COLLEGE OF CHIROPRACTIC MAIN CAMPUS RENOVATIONS

R. Richard Bittner Athletic & Recreation Center
The R. Richard Bittner Athletic & Recreation Center is a 46,000 square-foot, leading-edge fitness facility that opened in 2017. It features two athletic courts, a three-lane track, cardio equipment with internet and Preva, athletic equipment including free weights, resistance machines and functional fitness equipment, and a digital fitness room where users can select from on-demand fitness programming. Learn more about the Bittner Center.
Trevor V. Ireland Student Clinic
The Trevor V. Ireland Student Clinic opened in 2019. With the opening of the Ireland Student Clinic, all student clinical experiences on Palmer's main campus are centralized under one roof, offering a contemporary place for education and care. The Ireland Student Clinic features 25 rooms for patient care, a top-flight radiology suite containing 100-inch monitors that allow for an immersive image-review experience for students.
Bruce & Bethel Hagen Student Union
The Bruce & Bethel Hagen Student Union opened in 2020, providing a space for students to unwind and have fun. It features gaming pods set up for video-game tournaments, large-screen televisions with comfortable seating for viewing movies, a pool table, shuffleboard table, arcade games, golf simulator and the Campus Grounds coffee shop. Take a virtual tour of the Bruce & Bethel Hagen Student Union.
David D. Palmer Learning Commons
The David D. Palmer Learning Commons is a 22,000 square foot student learning space that opened in 2021. The Learning Commons encompasses the David D. Palmer Health Sciences Library, the Evan & Cynthia Beane Learning Lab where students hone their technique, more than 75 enclosed group and individual study spaces, Dave's Coffee Corner, and a monumental staircase inspired by spinal anatomy.
The Learning Commons is located in the same space that once housed the B. J. Palmer Clinic, giving Palmer students the unique experience of studying in the same space where the founders of chiropractic practiced.
NCMIC Center for Business Development
The NCMIC Center for Business Development opened in 2021. The newly-renovated space delivers students and alumni business skills and resources to help them create a strong chiropractic practice. The Center's programs are uniquely designed to meet the needs of chiropractors and incorporate instruction, mentoring, and hands-on applications.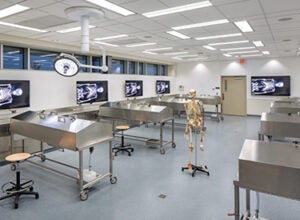 EXPERIENTIAL LEARNING CENTER 
The Experiential Learning Center, which opened in March 2022, allows students to move seamlessly between Palmer's anatomy classrooms, wet and dry labs, and technique classrooms. It features five technique labs with 20 stations for hands-on work, and two new anatomy labs.
Palmer Florida
4th Academic Building
To meet rising enrollment demands, a fourth academic building was opened in January 2022. The new 47,000 square-foot building features four high tech lecture halls, four state-of-the-art chiropractic technique classrooms, and space for more than 100 new students. Also featured is a patio overlooking the pond, providing a beautiful space to study or relax.
Renovations Coming Soon to Palmer's main campus!
Charles & Hildegarde Keller Terrace
The Charles & Hildegarde Keller Terrace will provide a beautiful outdoor space for students to study and learn in the very place where chiropractic education began almost 125 years ago. The space is expected to open in spring 2022.
Student Housing
New student housing construction began in May 2021 and is expected to be completed in fall 2022. The new building will be located on the east side of campus and will provide 115 units and will accommodate up to 139 students.
Recreation & Athletic Field
A new recreation and athletic field will be located adjacent to the new student housing. The space will serve as a multi-sport practice and recreation field where club and intramural sports teams such as rugby, softball, baseball and soccer will practice.