The Palmer Foundation for Chiropractic History has created historical displays located throughout the three Palmer campuses.
Historical displays include the extensive Palmer osteological collection, originally started by D.D. Palmer, a selection of B.J. Palmer's epigrams, and B.J. Palmer's Roycroft Furniture Collection.
Many of the exhibits can be found in Vickie Anne Palmer Hall on our main campus in Davenport, Iowa. The Palmer Family and Chiropractic History Museum is open for self-guided tours by appointment. Please call 563-884-5714 to arrange a time.
View select items from the Chiropractic History Museum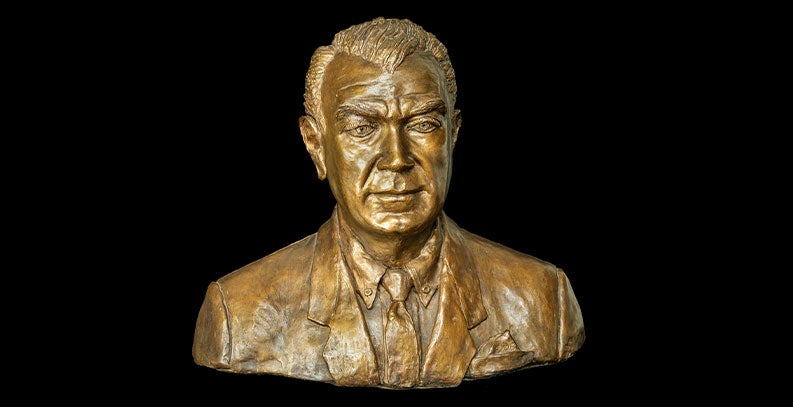 1/6
This detailed bust was sculpted by Dr. Agnes Mae High Palmer, wife of Dr. David Palmer.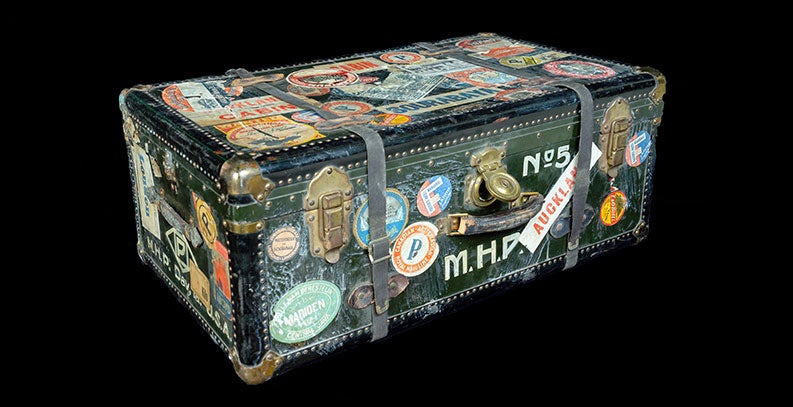 2/6
The Palmer family were world travelers. In the early 1920s they traveled with 22 trunks. This is one of Dr. Mabel Palmer's trunks.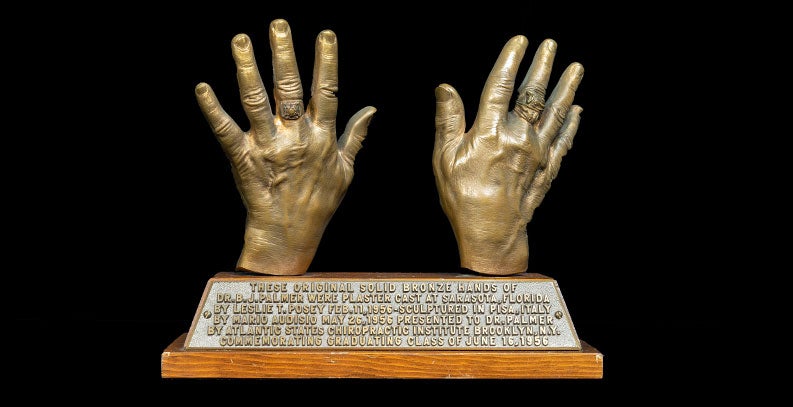 3/6
Original solid bronze hands of Dr. B.J. Palmer, sculpted in Pisa, Italy.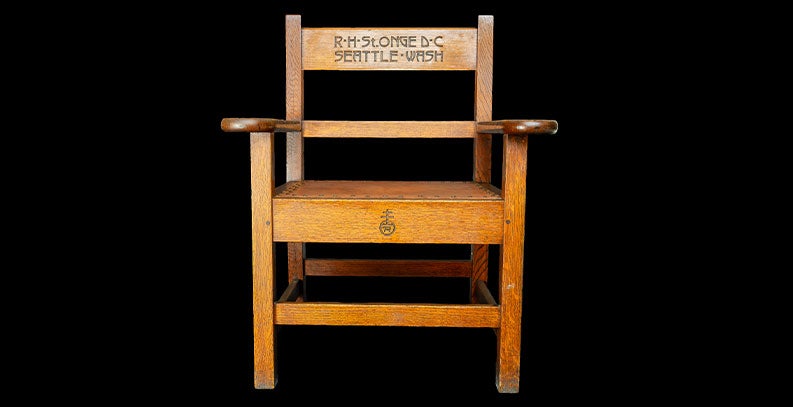 4/6
Palmer College maintains an extensive collection of Roycroft furniture. Forty-five of these armed chairs can be found with the names of individuals or organizations that supported the Palmer school.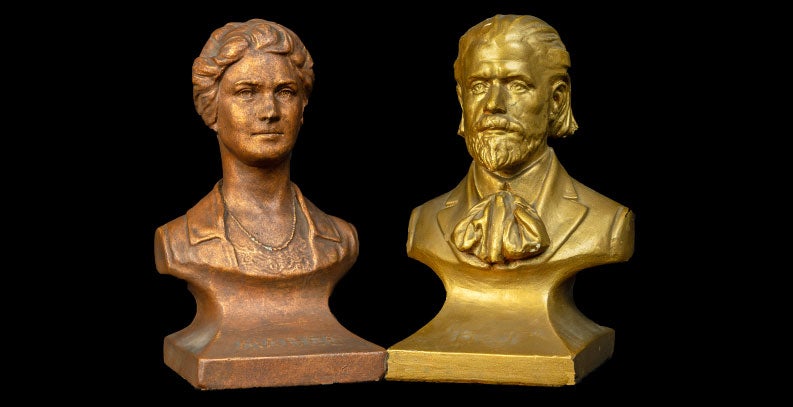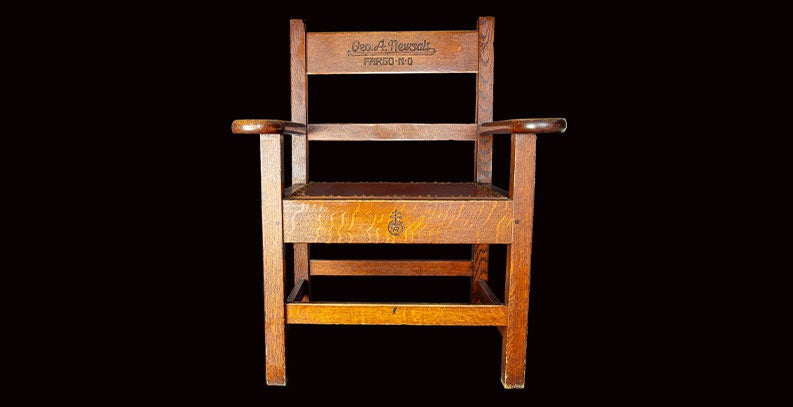 Palmer Osteological Collection
Well before D.D. Palmer performed the first adjustment, he studied and collected human bones as part of his early investigation into the healing arts and study of the human body. After he started what became the Palmer School of Chiropractic, this collection provided not only educational value, but also the added benefit of attracting visitors to the clinic at the Palmer School and Infirmary.
When B.J. Palmer became the head of Palmer School of Chiropractic he acquired D.D.'s osteological collection and continued to add to it over his lifetime. By 1956, B.J. reported the collection contained 25,000 specimens that represented ordinary bones as well as cases of disease, trauma and congenital malformations.
In the United States, there are few such skeletal collections devoted to pathological conditions. Today, portions of the Palmer Osteological Collection remain prominently on display
This collection is still viewed today by visitors from all over the world.
Selections from the Palmer Osteological Collection
B.J. Palmer's Epigrams
An epigram is a concisely written thought that deals pointedly, and often satirically, with a single event or idea and often ends with an ingenious turn of phrase.
B.J. Palmer, the Developer of Chiropractic, excelled in writing and collecting epigrams. His collection of epigrams, titled "As a Man Thinketh", comprises thousands he wrote or collected throughout his life. More than 3,000 of these epigrams appeared inside and outside the buildings on the Palmer School of Chiropractic campus.
Pearls of wisdom, as relevant to today's students as they were to students of that earlier age, are displayed, often in the distinctive "Arts and Crafts" font that B.J. admired.
B.J. Palmer's complete collection of epigrams, "As a Man Thinketh", can be purchased in the Palmer Bookstore.
Roycroft Furniture Collection
Another item that B.J. Palmer collected was Roycroft furniture. Sometime early in the 20th century, Elbert Hubbard, the founder of the Roycroft community of artisans, become friends with B.J. Palmer. In 1914, Hubbard signed B.J.'s personal guest book with the message "I believe in chiropractic, I believe in B.J.P., I believe in Mrs. B.J.P., I believe in work, laughter, play, study and love."
One year later, Hubbard and his wife died. Shortly after, B.J. purchased a large clock from the estate, believed to be the first piece of furniture the Roycroft artisans ever designed. B.J. had the word "chiropractic" added to the outside copper clock face. Its 12 letters correspond to the 12 hours hammered on the clock face's inside circle.
Forty-five Roycroft armchairs remain throughout campus for use, each engraved with the name of individuals or organizations who supported the Palmer School of Chiropractic. Although no records have been found, it's believed that the chairs were part of a fundraising program in the 1920s.
Donate to the Palmer Chiropractic History Museum
The Museum collection has been enriched through donations, and we're always eager to talk to potential donors. When an item is exhibited, the donor is recognized on the accompanying label or brochure.
We have limited storage space, so we must be selective regarding the items we accept. Duplicate items will only be accepted if they're in better condition than the one already in the collection, or have an unusual and traceable history. We don't accept unsolicited loans of objects.
If you have an item or items you may wish to donate, please contact us at roger.hynes@palmer.edu or 563-884-5855. Photographs are particularly helpful when discussing a potential donation, helping us to identify the object(s).