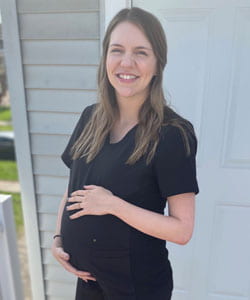 Claire Sheridan is no stranger to carrying a heavy workload. Not only did she recently complete her research honors project, but she's also wrapping up her clinicals, graduating in June, and expecting her first child at the time of this interview!
As she brings new life into the world she's also excited to bring vitality to her new career as a doctor of chiropractic. Previously a massage therapist hailing from Grand Rapids, Michigan, the biggest driving force behind her career change was how many more people she would be able to help as a chiropractor.
During her five-year career as a massage therapist, Claire worked for and looked up to Sara Young, D.C., who she now refers to as her mentor. She saw first-hand the impact chiropractic care has on the lives of patients, and knew that this is what she wanted to do.
"It pays off when you see someone's pain reduced by fifty percent in one day," Claire said. She recalls a full-term expecting mother experiencing severe lower back pain improving from a 10/10 on the pain scale to a 1/10 in just one week. Another source of inspiration for Claire was Dr. Young's ability to balance running a female-owned practice with a family.
For these reasons and so many more, Claire encourages anyone considering chiropractic care to explore it further. "If you want to serve people and work interactively with your patients, this is the way to go!" she said excitedly.
Claire's mentor encouraged her to explore Palmer College. Palmer's long history of producing exceptional chiropractors, along with its research program, made this the clear choice for her. Now, Claire's goal is to make chiropractic care more accessible to everyone as a first line of defense in health care.
With her research project accepted and approved, clinical hours nearly done, baby coming any day now and graduation happening on June 18, Claire is ready for what's next. After maternity leave, she plans to associate in the greater Grand Rapids area. She encourages prospective and current students to bear down and take the chance! "It all goes much faster than you think and you can do it," Claire encouraged.
Palmer College of Chiropractic is the first and largest chiropractic college. More chiropractors have graduated from Palmer than any other chiropractic institution. Interested in learning more about attending Palmer College? Visit palmer.edu.
Posted on May 26, 2021 by Sarah Tisinger.