A Call to Serve
Morgan Miholics, D.C. (Florida '21) has served her community in more ways than one. She served in the Coast Guard for 10 years where she worked hard to become a flight mechanic. She flew on numerous search and rescue cases saving 18 lives. She was able to achieve her dream of working on a helicopter, specifically an MH-60J while being stationed in Clearwater, Florida. Once she left the Coast Guard, she became a contractor for the U.S. Navy and the U.S. Army as an avionics technician and an overwater hoisting instructor for helicopters.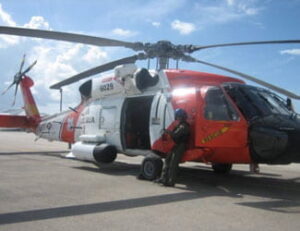 "Between all branches, I had the privilege of serving and contracting for I accrued more than 900 hours of flight time and can now understand why pilots and aircrew members need chiropractic care so badly!"
Miholics was introduced to chiropractic in high school after struggling with knee pain while running track. After just a few visits with her chiropractor, her pain was gone, and she was hooked on a more holistic way of health. She is very passionate about helping people, specifically veterans, achieve a pain-free life without medication. Miholics chose Palmer because she wanted to go to the school that led the way for chiropractic. It didn't hurt that her high school chiropractor, Keely Casteele, D.C. (Main, '00), is a Palmer alumna.
During her time at Palmer, Miholics took part in Palmer's Veteran's Affairs/Department of Defense rotation. The DoD/VA student rotation gives students the opportunity to serve our nation's military members and veterans while gaining valuable clinical experience in a multi-disciplinary environment. Miholics spent six months at the Las Vegas VA Hospital and worked with two different chiropractors along with other departments within the hospital.
"The VA/DoD rotation was one of the most rewarding experiences I could have ever hoped for. I got to meet and work with hundreds of veterans from all backgrounds, all war eras and with a plethora of different ailments."
She recommends this experience for all students. "I know most people know where they'll work after graduating, but you have your entire life to work there. Go try something truly unique for three or six months and you won't regret it."
"I want to be part of the community that helps people have a voice when they never thought they could. As a veteran myself, my biggest career goal will always be to work for the VA Hospital because veterans are my passion, and they are a huge community of people who need help."
She has a few words of advice for current chiropractic students, "School is tough! If you feel overwhelmed or confused if you made the right choice, it's all-natural and normal! Everybody around you feels the exact same and you'll get through it. Don't forget to breathe because that light at the end of the tunnel will be here before you know it!"
Palmer's Department of Defense/Veteran's Affair's (DoD/VA) student rotation opportunities give students the chance to serve our nation's military members and veterans while gaining valuable clinical experience in a multi-disciplinary environment.
These rotations are available to senior-level students on all Palmer campuses and include more than 50 affiliated DoD/VA hospitals and sites. Learn more at www.palmer.edu/dod.
Posted on April 11, 2022 by Sarah Tisinger.