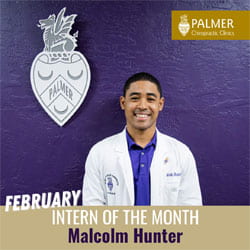 Congratulations to Malcolm Hunter for being named Palmer Florida Clinics Intern of the Month for February 2022!
Malcolm was nominated by his mod doctor, Tara Cheuvront, D.C., who says "Malcolm has gone above and beyond with providing help and knowledge to lower quarter interns as well as aiding when needed within the Mod. He has demonstrated a fantastic work ethic and he shows respectfulness and reliability. Malcolm demonstrates excellent clinical knowledge when managing patients and provides the best care possible. It has been a pleasure to witness his growth in all clinical competencies since beginning his time in the clinic and I look forward to seeing his continued success through his journey. I believe he will be a great asset to the profession."
Way to go, Malcolm!
Malcolm's photo will be displayed proudly in both clinic locations for the month of February.
MORE: Check out our past Clinic Interns of the Month!
Posted on April 11, 2022 by Sarah Tisinger.