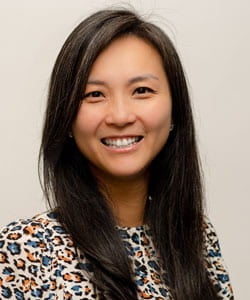 It was when Jen Chen, D.C. (West, '05) sought out chiropractic care for the first time that she knew she wanted to become a chiropractor. After suffering from chronic pain and bad migraines during her teen years, chiropractic changed her life.
"Nothing seemed to work. Chiropractic was the turning point in my life, and it made such an impact. Right from my first adjustment, I remember it felt like the fog had been lifted. I went from blurry vision to crystal clear vision. I was so shocked. Chiropractic was the savior for me, it's what helped me get back on my feet."
Amazed about the effective benefits chiropractic care provided, a spark was ignited. Dr. Chen found a passion to dive deep into the history of chiropractic to become the best chiropractor she could be.
"As I was looking into the history of chiropractic and how it came about, I was really encouraged by the fact that Palmer is the originator of chiropractic. I thought to myself, how could I go to a chiropractic college that did not originate? I wanted to be the best chiropractor I could be, I didn't want to be average and that's why I attended Palmer College.
"Palmer West's reputation was amazing and had the highest scoring on all the board exams when I was deciding what chiropractic college to attend. If you are coming from excellence and you learn from a school that develops excellence… that is where I wanted to be, plus the geographical location of Palmer West was incredible."
Being an international student from Vancouver, Canada, Dr. Chen shares what her experience was like attending Palmer West.
"As an international student, I always felt really welcomed. We had some support programs for international students, and I created an international student club during my time at Palmer West. It was a club for international students to share resources with one another and to build relationships within the Palmer community. I was able to share my differences with the local students and they were able to share with us the differences of living in California. We felt a part of the school."
After graduating from Palmer West in 2005, Dr. Chen returned to Canada and began immediately advocating for chiropractic. She became a board member at the British Columbia Chiropractic Association. At the time, Dr. Chen was the youngest member and the only Asian female chiropractor on the board. In 2007, she opened her own practice, Health First Family Chiropractic and is now expanding!
For prospective students who are considering a chiropractic career, Dr. Chen has one piece of advice.
"You have to love chiropractic. There has to be a passion there because you really want to help people and change their lives. It cannot be because you want to get a sports car or a mansion. That vision is too small. You have to live and breathe chiropractic. The magic of these two hands can heal and that is the essence of chiropractic."
Palmer College of Chiropractic is the first and largest chiropractic college. More chiropractors have graduated from Palmer than any other chiropractic institution. Interested in learning more about attending Palmer College? Visit palmer.edu.
Posted on April 11, 2022 by Sarah Tisinger.