The Grind Never Stops
Esteban A. Santiago, D.C., a native of Puerto Rico, carved out his chiropractic niche by hustling and working hard. During his time at Palmer Florida, Dr. Santiago started training athletes of all ages. Now, he's built a bustling sports chiropractic practice, and he loves every minute of it. One of his proudest moments was helping an 11-year-old basketball player rank top 15 in the nation!
"These kids have the talent, I just optimize it so they can get to the next level," he said. "And it felt like a major component was missing in the sports medicine industry so that's where I spent my time."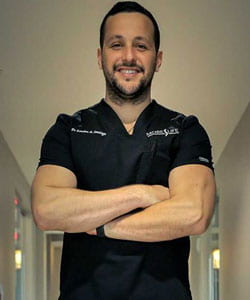 It didn't take Dr. Santiago long to see that there was a big demand for chiropractors who specialize in helping athletes reach top performance. He started reaching out to NBA players to let them know he was the best out there. José Juan (JJ) Barea of the Puerto Rican National Basketball team was his big break into caring for professional athletes. They connected via Instagram and, before too long, JJ's agent called. One thing led to another and he was working with the whole team! He made it a point to get to know each player, building relationships along the way.
"I would be there at 4 a.m. and again at 10 p.m. stretching them out and working on their bodies. This is my hunger, not just my talent!"
Dr. Santiago put in countless long days working with athletes for free, including the basketball team at the University of Central Florida, in order to pave the way.
"I had to start somewhere and I knew I needed just one foot in the door, so I worked my tail off without pay for as long as needed in order to get where I am now. I do it for the love of sports and the sports culture, not the money."
If he has any advice to give the upcoming graduates, it is to "believe in and invest in yourself! Learn more about anything and everything that interests you." He adds that what he does is perceived as different and "what I need to implement in this next generation is to care about others and be yourself!"
As for those considering chiropractic but maybe still sitting on the fence, Dr. Santiago wants you to know that this is the most diverse and best profession you can choose in order to help people.
"You get to create your own lane and work together with other medical professionals for the best outcomes."
The funny thing is, Dr. Santiago says he didn't know chiropractic care was his passion until his mom informed him of it. "I was 19 years old and I fought her on it until I met my first sports chiropractor," he recalls. "She knew it was for me because I could work independently and help more people this way." And, after being around professional athletes long enough, he saw what he felt was a gap in sports medicine. That is where he got the idea to combine his two passions: sports training and chiropractic care. Needless to say, his sports chiropractic business was born!
The goal for his new practice, More Life Sports Performance Chiropractic, is to make his brand so powerful that new Palmer Florida graduates seek him out. He just opened in under three years since graduation and plans to make it a franchise. His tag line is #YourSportsDoc, and the quote on his wall reads, "The Grind Never Stops."
Dr. Santiago truly believes a career in chiropractic can make a big difference, especially when you're passionate about it! He says, "Real growth starts when you get rid of your excuses. It's not going to feel comfortable and you'll often need the courage to keep going." It's what he lives and works by and we're extremely proud of all that he has accomplished so far!
Palmer College of Chiropractic is a leader in sports chiropractic. Find out more about how you can help athletes perform their best at www.palmer.edu/sports.
Posted on May 4, 2022 by Sarah Tisinger.