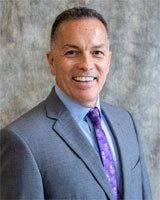 William Sherrier, D.C., M.A., has been named Dean of Academic Affairs at Palmer Florida. Dr. Sherrier is known as one of the "pioneer faculty" members of Palmer Florida, having been on staff since 2003. During his tenure at Palmer Florida, he's held roles in the Palmer Chiropractic Clinics, taught clinical sciences for 10 years, served as the Director of Practice Foundations and then Associate Dean of Clinical Sciences.
After five years of serving in the associate dean role, Dr. Sherrier is excited to be able to work in a larger capacity. "I'm a chiropractor, but I'm most passionate about chiropractic education. This position is exciting because it allows me to fully utilize my academic and clinical experiences in helping create a strong chiropractic program."
Posted on May 4, 2022 by Sarah Tisinger.