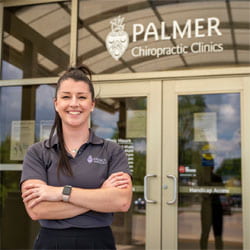 As a lifelong athlete, eighth-trimester student Riley Durbano always knew she wanted to work with athletes. She grew up playing softball as a kid and continued all the way up to a varsity level in college. After earning her undergraduate degree in athletic training, she came to Palmer College to pursue her doctor of chiropractic degree with a focus in sports for a well-rounded approach to athletic care.
"I noticed that in athletic training we were often referring our patients (basketball players) to chiropractic care and that sparked my initial interest in pursuing chiropractic with a sports focus to supplement my care. It just made sense for me to do both to be a better practitioner for athletes."
She advocates for athletes sharing that, "chiropractic care can reset the foundation, making sure everything is in proper function and mobility." After that she uses athletic training to "recondition and rehab every patient back to their optimal function and healing."
Durbano chose Palmer College because of its reputation, history, and philosophy.
"I've worked alongside faculty in the Rehabilitation Department that have sports or athletic training backgrounds. They've helped me make more connections between sports, chiropractic, and athletic training."
The education and experience reinforced her undergraduate education giving her a comprehensive understanding of how to care for athletes.
Durbano has benefited from the hands-on experience with sports chiropractic as the athletic trainer for the men's and women's Palmer rugby teams. She's also networked with Palmer alumni in her role as the president of the Sports Chiropractic Club.
Durbano is now looking forward to completing a preceptorship with the Washington Capitals' chiropractor, taking the next step to pursue her goal to work with a professional sports team.
And her education won't stop when she graduates. She already has her sights set on earning a Certified Chiropractic Sports Physician certification, a Diplomate of the American Chiropractic Board of Sports Physicians certification, as well as an acupuncture program.
"I'm excited to continue working with athletes on the sidelines and in the clinics, and Palmer has taught me how to help athletes compete at their best."
The Palmer Chiropractic Clinics provide safe, effective, affordable chiropractic care to approximately 170,000 patients each year. Learn more at palmer.edu/clinics.
Posted on May 4, 2022 by Sarah Tisinger.