Expanded VA Residency Programs Offer Advanced Interdisciplinary Training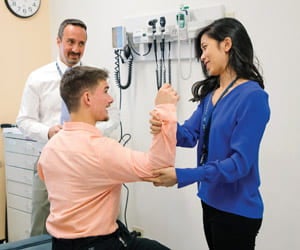 More of our nation's veterans will have access to chiropractic care through the Veteran's Administration (VA) Health Care program thanks to the recent addition of five new VA Chiropractic Residency Programs.
In 2014, five VA facilities across the country were selected to be part of a pilot program of chiropractic residencies that incorporated doctors of chiropractic within an interdisciplinary team of health-care professionals providing care to veterans. In 2017, this pilot program was approved as a continuing VA residency program after meeting VA performance metrics.
With the recent expansion, Palmer College of Chiropractic is now the academic affiliate to two of the 10 VA locations—the VA Central Iowa Health Care System and VA Palo Alto Health Care System (California).
"The VA is the largest training center for medical residents, and now chiropractors are part of this interdisciplinary training environment," says Robert Percuoco, D.C., Palmer College vice chancellor for institutional effectiveness. "This is a significant step in the history of the chiropractic profession. As chiropractors work to make inroads into interdisciplinary care, access to a VA residency will open opportunities for the profession as well as for patients. It offers students unique patient care experiences, helps them understand their role on a health-care team, and builds their confidence as a health-care provider."
For Nathan Hinkeldey, D.C. (Main, '11), his role as VA Central Iowa's residency director for the chiropractic integrated clinical practice residency combines his two passions—caring for veterans and teaching and learning. Prior to graduating from Palmer, he served in a chiropractic clerkship at the Walter Reed National Military Medical Center.
As part of his role with VA Central Iowa, Dr. Hinkeldey serves as a guest lecturer at Palmer College, talking to students about topics such as chronic pain, interdisciplinary care, co-morbidity and clerkships.
"There are unique opportunities opening up to chiropractors that weren't there even a few years ago. In 2015, the NBCE Job Analysis showed that only 7% of chiropractors were working in interdisciplinary environments. Now that number is 15.2%. This is another opportunity to work with people who haven't had access to care in the past, resulting in more awareness of the benefits of chiropractic," says Dr. Hinkeldey.
Rob Walsh, D.C., is the chief of chiropractic services and residency program director for the VA Palo Alto Health Care System.
"VA residents are seeing complex patients with high co-morbidity," says Walsh. "Residents rotate alongside specialists including emergency-room doctors, neurologists, geriatric specialists and general practitioners, and learn how they can best serve as a team player. We don't focus on titles. We try to be the best at providing non-pharmacological pain solutions. That's the main reason chiropractors are being integrated within the team."
Palmer's recent affiliation with the Veteran's Health Administration adds to its growing list of academic affiliations that provide unique hands-on learning opportunities for students and recent graduates.
Greg Snow, D.C., dean of academic affairs at Palmer West, says, "In the mid-2000s we started forming academic affiliations with the VA, Department of Defense and other multidisciplinary care providers and currently we have more than 40. Serving as the academic affiliate for two of the VA residency sites takes Palmer's relationship with the VA to the next level. It gives our students access to individuals working as residents in the VA and added insight into working in an interdisciplinary environment."
Among the VA sites, demand for chiropractic care is high.
"Chiropractic is rapidly expanding into multidisciplinary health-care settings," says Dr. Walsh. "We don't have enough residents graduating to fill the needs. There's really no other training program that does this; it fills a big hole."
"This is an opportunity to work with people who haven't had access to care in the past," says Dr. Hinkeldey. "Our rural service providers are elated to offer chiropractic care, and we have people waiting to get in to receive care."
Posted on May 12, 2022 by Sarah Tisinger.