It all started because a custodian was emptying a trash can 125 years ago this fall.
Seriously.
"Your vertebra is out of position, Harvey," Daniel David "D.D." Palmer said, raising his voice above the din coming from the streets outside the window of his fourth floor office. From across the room of his office in the Ryan Building in downtown Davenport, Iowa, the building's custodian Harvey Lillard had just bent over to empty a trash can. He couldn't hear the noise from the street but could hear Palmer's commanding voice.
"More than a decade ago, D.D., I moved the wrong way and heard a 'pop' in my back. That's when I lost some of my hearing," Lillard replied. "It's been that way ever since."
"I want you to lay face down for me," Palmer said to him. "I'm going to adjust your back." Lillard looked at him and did as he was told.
Harvey Lillard walked into D.D. Palmer's office the following day—and for the first time in a long time, he too could hear what was happening outside the window. "I can hear that racket on the street," he said.
The adjustment had given Lillard his hearing back, and put Palmer in the history books for discovering chiropractic.
Now, Palmer College of Chiropractic—founded just two years later to teach the spinal manipulation that transformed Lillard's life—is poised to make a "racket" of its own.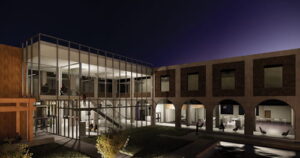 "But the good kind of racket," says Chancellor and CEO Dennis Marchiori, D.C., Ph.D. (Main, '90). From his office at the top of Brady Street hill in Davenport, just a mile up the road from that first adjustment, Dr. Marchiori is standing at his desk and rolling out blueprints that show the future of Palmer College. He's settling in after two days of meetings with the College's Board of Trustees, and a celebration marking the opening of a new student clinic on the College's main campus in the Quad Cities.
"I cannot tell you how energized I am by our future," he says, the excitement in his voice palpable. "We've taken the time as a College—as the trusted leader in chiropractic education—to thoughtfully map out a future for our students, and the profession that started right here in Davenport. We don't typically like to be loud about what we're doing, but we're going to be."
He pauses. "We actually have to be, to accomplish the bold vision for the future we're embarking on."
Palmer College's blueprint—its vision—for the future is 100% motivated by a desire to fully meet its mission of promoting innovative learning, delivering health care, engaging the community, and advancing knowledge through research, Dr. Marchiori explains. "It's also driven by our larger spirit to take chiropractic care to every corner of our globe and to do so in a way that only Palmer College can."
"You know, D.D. once said, 'I was educated to dare to think,'" he adds. "At Palmer, our faculty and staff, alumni and board—and of course our students—are now also daring to dream about the ways we can advance our vision for the future. Let me show you how we're going to do that."
He rolls up his sleeves and for the next 35 minutes, doesn't stop talking.

In the years ahead, Palmer College will lead the world by making high visibility investments that will have an extraordinary impact on students and the profession. Those investments start with a commitment to partner with alumni and donors to establish endowed scholarships on the West, Florida and Main campuses to bring a chiropractic education within reach for the best and brightest no matter their financial situation.
"Donor-funded scholarships are crucial for our students, and critical to the future of our profession," William Meeker, D.C. (West, '82), campus president at Palmer West, says from his office in California.
"Every—and I do mean every—single student who comes to Palmer with dreams of becoming a chiropractor, and carrying on our profession, could benefit from a scholarship. Alumni often ask me what they can do to express gratitude for the education that jump-started their careers. Starting a scholarship is at the top of the list."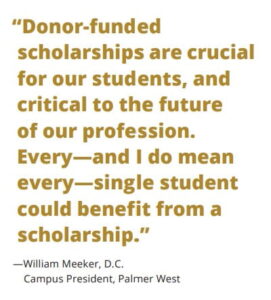 "The world of higher education admissions is becoming more and more competitive," Dr. Marchiori adds, "with the cost to attend chiropractic colleges as important a factor in the decision-making process as reputation and quality facilities. Scholarships—and gifts to grow our endowment—will give us the stability, foundation and space to do the things we know will transform the profession forever."
Two of Palmer College's campuses will transform physically over the next few years, "and yes, there will be a bit of racket caused by the construction," Dr. Marchiori says, grabbing another tube of blueprint plans marked "Florida."
On the table are plans for a new $12 million academic building on the Florida campus, which has seen unprecedented growth in enrollment over the past decade. With nearly 33,000 square feet of space over two floors, the fourth building will be situated adjacent to Buildings 1, 2 and 3, and filled with
windows that take advantage of the natural light the sunshine state is known for. Four new technique rooms and four high-tech classrooms have been designed specifically for students to apply what they learn about movement science and rehabilitation. There's even an extended patio alongside the pond for students to relax and study.
"It's going to be fantastic," Peter Martin, D.C. (Main, '68), campus president of Palmer Florida, says from his cell phone as he's walking passed a group of students studying outside. Dr. Martin has been associated with Palmer for more than 50 years, and has witnessed the transformation of the College since his days as a student at the Fountainhead.
"In all my years, Palmer has never wavered from answering the call to educate chiropractors in a way that pushes our profession forward while also honoring our 125-year history," he says. "This new academic space—and the students who use it—will stand testament to that legacy of innovation."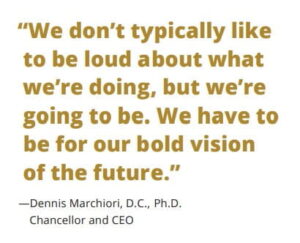 On the main campus in the Quad Cities, construction is already underway on a new space that will support the phenomenon that learning happens equally in the classroom and outside of it. The Learning Commons will invite collaboration between students and faculty, access to technology, and group and private study rooms.
"And check this out," Dr. Marchiori says, pulling a rendering out of his satchel. "How cool is this?"
He's pointing at the staircase, which has been designed with an anatomical spine feel. It is, actually, exactly what he says it is: incredibly cool. The centerpiece of the $10.2 million, 22,270 square foot Learning Commons is a glass atrium that surrounds the entrance. Brick arches from one of the first buildings on the campus, discovered during the planning phase of the project, will be exposed once again. The space will be home to the library and private and group study rooms that can be adapted to accommodate one to eight students.
Once that project is complete, a new Experiential Learning Center on the main campus will bring technique, gross anatomy and virtual anatomy labs together, giving faculty and students advanced educational spaces with state-of-the-art lighting, audio and visual equipment, and cadaver storage technology. The Center, Dr. Marchiori says, will enable students to seamlessly transition from practice to learning, concept to skill, and back again, in the same environment.
"You just don't see this elsewhere," he says.
As he carefully rolls up the blueprints and stacks up the renderings, there's a knock on the office door. It's Barbara Melbourne, J.D., vice chancellor of institutional advancement, for Palmer College. She's just walked up the hill from the alumni office—she's Dr. Marchiori's next meeting. It's a fitting segue because everything Dr. Marchiori just shared will only be possible because alumni and donors make the choice to give to Palmer.
"We're undertaking the single, largest campaign in the College's history," Melbourne says, "and this is one of the most exciting, most ambitious undertakings I've ever been part of."
Melbourne came to Palmer College three years ago, and in a short period of time has nearly doubled  alumni giving to their alma mater. She's leading the aptly named "Daring and Driven: The Campaign for Palmer College," alongside the support of the Board of Trustees and Campaign Co-chairs Paul VanDuyne, D.C. (Main, '78) and Donna VanDuyne, D.C. (Main, '78).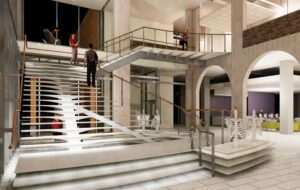 "We have a goal to raise upwards of $40 million over the next few years," Melbourne says. "It's daunting and thrilling and yes, daring."
Clearly, the pun was intended. "And yet," she continues, "it's being received with a sense of pride and partnership from the alumni we've just started to meet with. Every single time I sit with our alumni, they share how meaningful their Palmer experience was to their career—and how eager and willing they are to participate in paying it forward with a gift to the campaign."
"We've got a lot of work to do to share our plans for the future with our alumni, and the profession," Dr. Marchiori says. "It will take the participation of every single graduate—and researchers and practitioners in the profession—to drive our vision forward."
Donate to Palmer College of Chiropractic directly or learn more about alumni giving at www.palmer.edu.
Posted on May 12, 2022 by Sarah Tisinger.