When Your Patients Are Professional Athletes, You Get Work Done Plus a Workout All In One!
What do the Cleveland Browns, Cavaliers and Indians all have in common (besides their city)?
Greg Kempf, D.C., (Main, '96) is their chiropractor!
But, you probably won't hear it from him. After 25 years in business, he's confident but humble and he loves what he does. He feels like the lucky guy who was at the right place at the right time.
The Browns were also in the right place at the right time. They'd moved to Baltimore for three years and it was only upon their return to Cleveland in 1999 that their head trainer, a progressive coach, decided to hire a team chiropractor.
"So, I interviewed with the Cleveland Browns' head trainer and their orthopedic surgeon and it went from there!" recalls Dr. Kempf.
After doing a great job with the players – and their privacy – in the first year, they started calling him more and more frequently. By the second year, Dr. Kempf's hours increased and, before he knew it, he was attending all home and away games with the team!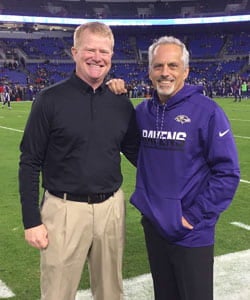 Dr. Kempf's office is a close walk from the stadium but before long they wanted him to work on-site. He recalls the feeling of having his work cut out for him pretty early on, "It was just me and these very large football players. I loved every minute of it!"
"I didn't set out to work with athletes. I had originally intended to cater to the downtown working community but then the players started coming in," he said. After working with the Browns for a couple of years, the Cavaliers' head trainer spoke to the Browns' head trainer and suddenly Dr. Kempf found himself adjusting athletes who handled a different type of leather ball. Before long, he was relieving pain for the Cleveland Indians as well.
About being a chiropractor, Dr. Kempf says "The cool thing is, this is the road less traveled. The uncommon ground. Chiropractors are a different breed. If you're considering it, you're already different from the rest. My college advisor once asked me why I would want to go to chiropractic school and encouraged me to go to med school instead. I could have made the easier choice of taking over my dad's dental practice or going to med school but I chose the road less traveled and am so glad I did!" he said.
What Dr. Kempf's advisor didn't know is that thousands of patients would get up from his table and tell him that he has changed their life forever or that they love him. After dealing with any number of mystery ailments for any length of time, they now have relief. "It happens every week if not every single day and, after a while, you think, 'of course you're better, see you next month!'"
It's not the celebrities he provides care for or the championship ring the Cavaliers gave him that Dr. Kempf is most proud of though. "Other chiropractors will completely get this but I've been doing it so long now that it has just become normal to help people at that level. What other profession gets that kind of love and instantaneous feedback?"
To current students, he says, "Adjusting is the bread and butter so you have to be good at what you do. Get your hands on as many people as you can and practice. Offering nutrition and supplements is fine, but if you are good at spinal manipulation, patients will find you. Choose the technique that speaks to you, then get really good at it!"
Dr. Kempf adds, "Another cool thing is how far we've come as chiropractors. The orthopedic surgeon and other doctors on the team trust what I do and love getting their adjustments. We have a great relationship and hopefully, that is the way of the future!"
"The doctor of the future will give no medicine but will interest his patients in the care of the human frame, in diet, and in the cause and prevention of disease."
–Thomas Edison
Palmer College of Chiropractic is a leader in sports chiropractic. Find out more about how you can help athletes perform their best at www.palmer.edu/sports.
Posted on May 4, 2022 by Sarah Tisinger.