Michael Tunning, D.C., M.S., ATC (Main '06) has been named Dean of Academic Affairs at Palmer's main campus.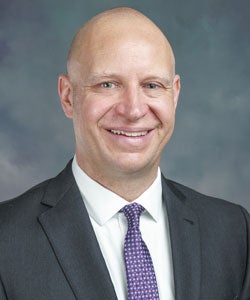 Prior to this, Dr. Tunning served as Associate Dean of Clinical Sciences for five years, overseeing the Diagnosis & Radiology, and Technique Departments. Additionally, he previously taught Active Care and Neuromuscular Skeletal Diagnosis, while also assisting in anatomy labs, the Advanced Soft Tissue elective, and Technique coursework. As a faculty member, Dr. Tunning served for three years as the Faculty Senate President and received the Faculty of the Year Award in 2014.
Dr. Tunning completed a Master of Medical Education Leadership degree in 2015 with his master's project focused on building an academy of educators, a structural approach to building excellence in teaching. Dr. Tunning is actively involved as a member of the Affiliate Partnership Council and Graduate Chiropractic Education Committee with the VA of Central Iowa Health Care System.
"Palmer College has always been a special place for me," said Dr. Tunning. "We have an incredible tradition and a future full of even greater potential. I'm excited to work with our talented students, faculty, staff and administration to help Palmer College achieve its potential."
Posted on May 3, 2022 by Sarah Tisinger.