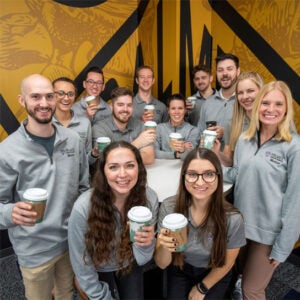 Palmer students have a lot to balance: classes, jobs, clubs and organizations, family life, adjusting to a new program and living in a new area. To help alleviate the stress that comes with these responsibilities, Palmer provides resources including our campus mentors, who are here to help students navigate a successful Palmer journey.    
Campus Mentors are upper-trimester students recommended by their peers to serve all students, but especially first-tris. Pairs of mentors are assigned to different groups of incoming students and meant to serve as guidance, provide feedback and give advice.   
The goal is to advise new students regarding anything they may need to know, including things about campus, classes, the Quad City area, clubs, extracurriculars, programs, support and more. This is to create a smooth transition for new students to help them be successful from the start. 
Michalla Dunja-Compo and Trevor Anderson are the Campus Mentors Co-Presidents. 
"Together, we have been able to make our own improvements to the program, like implementing the use of two mentors per group," Trevor said. "This new approach allows for one experienced mentor to be paired with a newer mentor who can learn the ropes."  
Students can utilize their mentors by scheduling one-on-one meetings with them to go over anything from study tips for anatomy to advice on a specific course. Mentors can even join a student's meeting with a professor to be an additional support.  
It isn't strictly about school, though. Mentors can be found hanging out with their mentees, working out with them in the R. Richard Bittner Athletic & Recreation Center, getting coffee at Dave's, or even just texting. This ends up creating a lot of close mentor-mentee friendships.  
"My campus mentor was vital to my success, and she became my life coach and lifelong friend," Michalla said. "She is the reason I got involved with the program and now I hope to be that help for others."  
"I'm married and have two young daughters," Trevor said. "When I started at Palmer I was introduced to another student with a young family. It was nice to bounce questions off someone who had similar life circumstances both in and out of school. It was monumental for me, and I can see where the adjustment would take more time without mentors."  
"Mentors are on campus as much as all other students are, so we make an effort to be available and be flexible for when students need it," Trevor said. "We've been in their shoes so even if they don't know what they need, we encourage them to visit us so that we can figure it out together."  
Campus mentors can be found in their new office space in the Experiential Learning Center. The space is shared with the Student Academic Support Center which allows mentors and tutors to work together to provide students with a more holistic approach to support. For example, they might encourage students to use the different academic support options available, including the PASS (Palmer Academic Student Success) program, academic advising and drop-in-tutoring.  
"Our office is a convenient, safe space for students to come and express concerns, ask for help, just talk and more," Trevor said.  
Currently, there are 14 students that serve as campus mentors on the main campus. Anyone interested in joining them can contact Lora Schroeder in student services or reach out to Trevor and Michalla directly. 
Posted on April 29, 2022 by Sarah Tisinger.