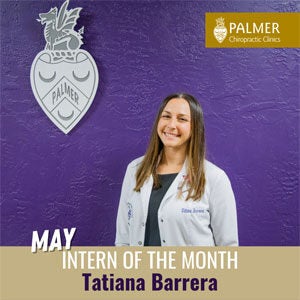 Congratulations to Tatiana Barrera for being named Palmer Florida Clinics Intern of the Month for May 2022!
Tatiana was nominated by her mod doctor, Jason Belcher, D.C., who says "Tatiana has brought so much knowledge and skill to the clinic. She currently holds an ATC certification in Florida and a massage therapist certification in Puerto Rico. She has a remarkable ability to communicate with patients. She currently holds the CTA position in Mod 2D and has been a leader/mentor in the Mod since she arrived. Her attitude is always positive and uplifting."
Way to go, Tatiana!
Tatiana's photo will be displayed proudly in both clinic locations for the month of May.
MORE: Check out our other intern spotlights!
Posted on May 9, 2022 by Sarah Tisinger.