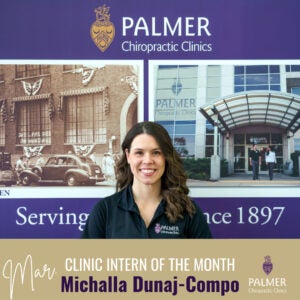 Congratulations to Michalla Dunaj-Compo for being named Palmer Chiropractic Clinics Intern of the Month for March 2022!
Michalla was nominated by Kevin Percuoco, D.C., who says, "Michalla is an exceptional person. She carries the marks of a true leader, supporting and advancing all of those around her. She does not hesitate to offer support to me, her peers, or her patients. She makes herself available in and out of the clinic to support those needing assistance. She has a growth-oriented mindset and consistently looks for feedback on ways that she can improve. Clinically, she is an exceptional communicator and reinforces goal setting and accountability for her patients. Whether her patients are 20 or 70, she supports them in obtaining their goals. I have high hopes for Michalla and look forward to her continued growth as a chiropractor and the support she will offer the community where she plants her roots."
Congrats, Michalla!
Posted on April 8, 2022 by Sarah Tisinger.