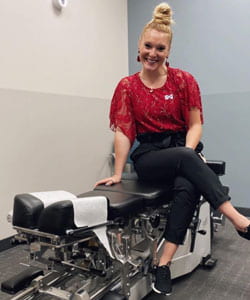 Palmer's Department of Defense/Veterans Affairs (DoD/VA) student rotation gives students the chance to serve our nation's military and veterans while gaining valuable clinical experience. "I was drawn to the program because my dad served in the Air Force. Aside from actually serving, I couldn't think of a better way to give back to my dad, other veterans, and the men and women currently serving our country," said 10th trimester Palmer main campus student Kelsey Arneson.
Working at the Tuscaloosa Veterans Affairs Medical Center for 12 weeks was everything Kelsey had imagined and more. 
"I learned how to put a full physical exam together, complete a patient workup and essentially take a patient's care from start to finish. You step into this role maybe even before you feel fully ready, which builds confidence and allows you to clinically prepare for any future situation as a chiropractor."
Getting introduced into caring for patients with chronic pain tends to happen much sooner in this program due to the diversity and severity of the VA populations. "I cared for patients anywhere from 22 to 86 years old with a wide array of health concerns, from congestive heart failure, COPD, diabetes, cancer, extreme radicular pain, failed surgeries, MVAs, military injuries, tinnitus and even patients who had suffered strokes. I learned how to take a detailed history and the importance of asking clinical questions to lead me to a proper diagnosis, and ultimately a successful treatment plan," she recalls.
Working with multidisciplinary health care providers meant possibly having acupuncturists, nutritionists, primary care physicians and psychiatrists in conjunction with chiropractic care. "It was priceless to learn from PCPs, RNs/LPs and neurologists, especially when 85% of these patients are already being managed by other providers, some for 50 or more years," reported Kelsey.
"The connection between allopathic and holistic care gave me a perspective I wouldn't have had without having seen it firsthand. Learning about neurology in school, for example, felt extremely complicated but listening to a specialist in the field explain it in layman's terms made it easier to grasp. And I love getting to the root issue faster with this method of co-managing patient care," she said.
It was the holistic approach and working with her hands that led Kelsey to the chiropractic profession in the first place. "I was a senior in high school when a woman came in to tell her story. She was a chiropractor who spoke of having the best job in the world, using the two tools God gave her every single day (her hands). I knew I wanted to be a holistic doctor so I was excited to learn that I could use my hands to care for patients. It was a defining moment for me!"
As far as other students who've chosen to become doctors of chiropractic, Kelsey urges you to consider the Palmer's DoD/VA student rotation, "I honestly didn't even know how much I needed this opportunity when I took the leap of faith. Taking this opportunity at the Tuscaloosa VA taught me things that would have likely taken me three to five years in my own clinical practice to discover, and master. If you're at all interested, apply, and don't limit your location. Keep an open mind as to where you'll go. This is the most amazing and humbling experience, in my opinion, and I wouldn't be the clinician I've become if I hadn't done it. Palmer will prepare you for it. I'm so glad I did it!"
Palmer's Department of Defense/Veteran's Affair's (DoD/VA) student rotation opportunities give students the chance to serve our nation's military members and veterans while gaining valuable clinical experience in a multi-disciplinary environment.
These rotations are available to senior-level students on all Palmer campuses and include more than 50 affiliated DoD/VA hospitals and sites. Learn more at www.palmer.edu/dod/.
Posted on April 8, 2022 by Sarah Tisinger.