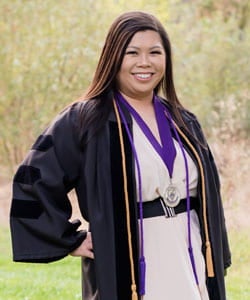 This summer, Mandy Wong (West, '20) will be on a new journey in her chiropractic career.
Dr. Wong has accepted a chiropractic integrated clinical residency at the VA Central Iowa Health Care System.
As a chiropractic student, Dr. Wong knew the VA was a place she could see herself in the future. During Dr. Wong's final two quarters at Palmer, she completed a clerkship at the Monterey VA, which is an extension of the VA Palo Alto Health Care System.
"I learned about the VA clerkship program during my campus tour, and I knew immediately that I wanted to participate in it. I knew it would give me the opportunity to work with other disciplines with a population that desperately seeks relief from their pain. I knew that it would help me end up in a hospital setting, to continue to work with others with the same goal."
"As the caregiver for several family members, I witnessed a disconnect between health-care providers. I observed this again while working as a scribe in a level I trauma center. It was then I knew that as a chiropractor, I can be part of a system to improve the collaboration between specialties that enhances patient care. I knew a multidisciplinary approach that includes chiropractic was a career path I was passionate about. The VA puts chiropractors in a unique role to not only care for veterans but also guide the patient down the proper channels of care. As a caretaker, I empathize with veterans, especially those who suffer from mental health issues or chronic pain. This was another huge reason why I set a goal for myself to be a resident within the VA health care system."
With already having an opportunity to participate in the VA clerkship, Dr. Wong expresses her excitement for her upcoming role.
"I'm most excited to go on the different rotations throughout the health care system, including pain management, physical medicine, rehabilitation, behavioral medicine, and surgical specialties. These different rotations will help me get a better aspect of medicine and what patients experience outside of chiropractic. To be a well-informed provider, I need to know what's out there, what other specialties expect from chiropractors, and what we should expect from them."
As Dr. Wong reflects on the last few years and acknowledges how far she's come, she explains how Palmer West has made such an impact.
"I'm incredibly grateful for Palmer West and all the opportunities that I was given. Being involved on campus and participating in so many activities really shaped who I am as a chiropractor. My classmates, professors, and clinicians really encouraged and challenged me, but never stopped having faith in me. I will forever be grateful for that."
And through it all, Dr. Wong says:
"I'm most proud of getting to this point in my career. I didn't have a cookie-cutter career path. I took a semester off during my undergraduate when my mom passed away and I was still able to graduate on time with my class. I then took a few years after graduating college to figure things out for myself. It took me a while to get here, but I'm really proud of myself for not giving up when things got tough or when things were a little cloudy for me. I stayed true to who I am and pushed on."
Dr. Wong is setting an example for future chiropractors.
Palmer College of Chiropractic is the first and largest chiropractic college. More chiropractors have graduated from Palmer than any other chiropractic institution. Interested in learning more about attending Palmer College? Visit palmer.edu.
Posted on May 6, 2022 by Sarah Tisinger.