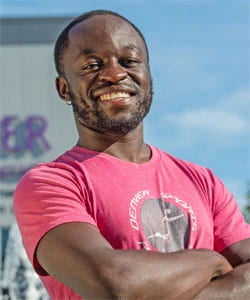 It only took Colorado native, Michael Agyei, 10 minutes on Palmer's main campus to realize that it was the perfect place for him to complete the Doctor of Chiropractic program. Now in his seventh trimester, he can confirm that it was the right decision.  
"Palmer was actually the last school I visited, but once I was here, in-person, it didn't take long to make a decision," he said. "When I'd visited other schools, they all revealed remnants of Palmer, whether it was professors who were Palmer alumni or textbooks written by Palmer professors. It was easy for me to recognize that Palmer made the most sense and to get completely on board." 
Now, Michael has big dreams for after graduation. "I'd like to work under an established doctor of chiropractic for a while before opening my own practice and I'd love to work with a big LGBTQIA+ population to promote inclusive health care and general health and wellness with that population." 
He's spent his time at Palmer involved in student organizations including the Campus Guides and Student American Black Chiropractic Association (SABCA). 
Knowing how much Campus Guides helped me with my decision, Michael wanted to give back and help other people making that big decision.  Student members, like Michael, volunteer their time to give tours of the Palmer campus and the historic Palmer Family Residence.  
"I waited a few trimesters to join Guides because I wanted to get my feet planted as a new student and get comfortable with my class schedule and course load," Michael said. "It's a cool way to be involved on campus and serve as a student leader. After giving tours to prospective students, we usually eat lunch or grab coffee with them, which gives them a chance to ask questions in-person to one of us students," he said. 
"I like answering prospective students' questions about being a chiropractic student at Palmer because I had many of the same questions when I was starting," Michael said.  
Michael is also involved with SABCA, formerly known as the Harvey Lillard Society. This group was established in memory of the first chiropractic patient. Its purpose is to aid in promoting equity in the chiropractic profession for minorities and promote the expansion of chiropractic as a healthcare system. The organization has hosted events during Black History Month and volunteered with local churches and community groups.
"We try to promote diversity at Palmer by creating a space where everyone is welcome. SABCA is open to all students, not just for people of color! It's a great way to get involved to learn about other people's experiences, which will only help more when we are doctors and have patients from all walks of life," he said.  
When he's not busy with classes, student clubs and his job as a work-study, Michael attends fitness classes in the R. Richard Bittner Athletic & Recreation Center, attends seminars hosted by the Palmer Center for Business Development, and spends time with friends. "Outside of Palmer, I enjoy riding my bike on the trails that go through the Quad Cities and exploring other cities in Iowa on the weekends, including Iowa City, Iowa and Galena, Illinois."
"My parents are from Ghana, so I enjoy cooking traditional Ghanaian dishes as well," Michael said. "I also love speaking Spanish, playing music and dancing…I've been told numerous times that I'm always dancing, but I don't even notice!" 
Michael is currently a student intern in Palmer's Davenport Clinic working under Katherine Clark, D.C. where he provides care to patients from the local community.  
What could 10 minutes on our campus do for you?
Palmer College of Chiropractic is the first and largest chiropractic college. More chiropractors have graduated from Palmer than any other chiropractic institution. Interested in learning more about attending Palmer College? Visit palmer.edu.
Posted on April 8, 2022 by Sarah Tisinger.