Sisters on the Same Path, from Egypt to Palmer College
When the Kalad family moved from Aswan, Egypt to Lansdale, Pennsylvania in 2012, they wanted to provide a better education for their daughters. What they didn't know was that Sally and Simone, five years apart in age, would choose to attend Palmer College together.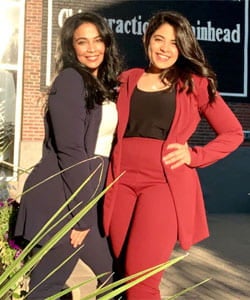 The Kalad sisters had been on health-minded journeys for many years. As personal trainers at the same gym, they saw many injuries and were committed to helping their clients.
It was then that Sally started to research chiropractic care to address injuries. Realizing she could help the body with just her two hands and without prescription drugs drew her in. Plus, it would combine her passion for fitness, health and healing.
Simone has had a similar experience, though she credits her sister for inspiring her. "I started working out at seventeen years old thanks to my sister. I was able to learn from her vast knowledge and she was very encouraging, which I think prevented me from having some of the same insecurities she endured," Simone commented.
Simone discovered the benefits personally after an injury led her to see a doctor of chiropractic.
Their dream is to open a natural health and wellness center that combines chiropractic care, a full gym, personal training, massage therapy, acupuncture, supplements, and all health and wellness-related services after graduation. "The vision for our center is a huge and all-encompassing mind-body-soul mecca. It's what people know they need but aren't sure how to achieve," said Sally.
Although they're only in their first trimester, these sisters already have a few words of wisdom for their Palmer peers. Sally's favorite is, "Failure is just another chance to learn more! It's tough, yes, but focusing on it as though you did something wrong isn't helpful. Look at it as another push to figure out how or what you can learn. It's okay because we all fail."
Along those lines, Simone references a few acronyms that help:
FAIL: First Attempt in Learning
END: Effort Never Dies
NO: Next Opportunity
Sally's second piece of advice is to learn and study for your own benefit, not just to pass the exams. She strongly believes that having a healthy posture fixes everything — the head, the gut and our overall health — so it only makes sense that she'd want to learn about it to set herself, and her body, up for long-term success.
Lastly, Simone recommends getting outside of your comfort zone while practicing the law of attraction. She advises, "stay away from what's comfortable. Focus on what you want rather than what you don't want! Be clear in your self-talk and manifest your desires."
Palmer College of Chiropractic is the first and largest chiropractic college. More chiropractors have graduated from Palmer than any other chiropractic institution. Interested in learning more about attending Palmer College? Visit palmer.edu.
Posted on April 8, 2022 by Sarah Tisinger.