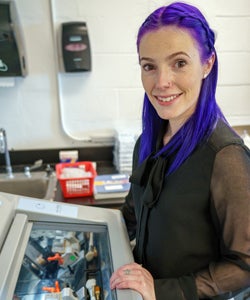 Emma Rae Langdon graduated and achieved Research Honors in February of 2022 at Palmer College Chiropractic, Main Campus in Davenport, Iowa. Dr. Langdon ultimately chose Palmer College because of the opportunity to participate in its Research Honors Program, where she was able to cultivate her interest in chiropractic research. Mentorship, which is the cornerstone of the Research Honors Program, was very impactful for Langdon, who said that learning from Dr. Stephen Onifer, Ph.D. was "monumentally impactful" on her learning. She went on to say that Dr. Onifer's ability to explain "complicated neuropathways" inspired her to "want to achieve the same" understanding.
Additionally, while participating in Research Honors, she worked closely with Robert Vining, D.C., DHSc, who serves as the Associate Dean of Clinical Research. Langdon described the knowledge imparted to her by Dr. Vining as "paradigm shift[ing]" in the way she thinks about and interacts with patients' pain. Langdon's Research Honors Project analyzed the presence of a peptide known as CGRP (Calcitonin gene-related peptide) and its receptor in the dorsal horn of the lumbar spinal cord and brain stem. Dr. Langdon stated that her experience in Palmer's Research Honors Program has enabled her to see how "chiropractic is the perfect way to focus on patients' values and help them achieve their health goals, while allowing them to feel in control of their health."
Research Honors Project
Abstract:

Individuals with chronic low back pain and associated radiculopathies may seek pain relief through low-velocity, variable-amplitude spinal manipulation (LVVA-SM). Mechanisms underlying analgesic effects of LVVA-SM are currently unclear. When peripheral nerves are injured such as in the spared nerve injury (SNI) model, dorsal root ganglia (DRG) neurons experience adaptations which lead to peripheral sensitization and central sensitization. An example of these adaptations is an increase in neuron excitability demonstrated through phosphorylated cytoplasmic extracellular signal-regulated kinases 1/2 (pERK) in ipsilesional spinal cord dorsal horn neurons. Mechanisms to explain increased neuron excitability are ill-defined. Calcitonin gene-related peptide (CGRP) and the CGRP receptor may have a neuromodulatory effect that enhances neuron excitability. The purpose of this Research Honors Project was to determine the status of CGRP and its receptor component CRLR in the SNI model using immunostaining, microscopy, and image analyses methods.
Select Research Honors Projects Publications
(Research Honors students are bolded)
Knieper MJ, Bhatti JL, Twist EJ. Perceptions of chiropractic students regarding interprofessional health care teams. In press, J Chiropr Educ 2021.
Kimball KA, Roecker CB, Hoyt K. Imposter phenomenon among US chiropractic students. J Chiropr Educ 2021;35(2):209–214.
Colton KK, Nightingale LM. Influence of cooking skills and nutritional training on dietary choices of incoming chiropractic students. J Chiropr Educ 2020;34(2):156-163.
Zipay NM, Roecker CV, Derby DC, Nightingale, LM. The influence of online review videos on gross anatomy course performance among doctor of chiropractic students. J Chiropr Educ 2020;34(2):147-155.
Prevost CP, Gleberzon B, Carleo B, Anderson K, Cark M, Pohlman KA. Manual therapy for the pediatric population: a systematic review. BMC Complement Altern 2019; 19:60.
Cooperstein R, Truong F. Does the gillet test assess sacroiliac motion or asymmetric one-legged stance strategies?. J Can Chiropr Assoc 2018;62(2):85-97.
Conference Presentations
Salata V, Sheridan C, Arends C, Vande Hei A, Sozio R, Long C, Shannon Z, Taylor B, Onifer S. Establishing Laboratory Methods for Determining the Contribution of Neuropeptide Y to the Pain Relief of Spinal Manipulative Therapy. ACC-RAC Conference, March 19-21, 2020, San Diego, CA.
Jones W, Bishop A, Arko C, Arends C, Sozio R, Onifer S. Engaging Chiropractic Students in Basic Research Measuring Serum IL-1a Levels in a Spared Nerve Injury (SNI) Rat Peripheral Neuropathic Pain Model. ACC-RAC Conference, March 19-21, 2020, San Diego, CA.
Drover M, Littrell T, Baca K, Derby D. Resilience, perceived stress, quality of life and demographic assessments in chiropractic students: a survey based measurement. ACC-RAC Conference, March 19-21, 2020, San Diego, CA.
Schultz-Enwright P, Schmidt S, Wells B, Nightingale L, Torgerud S. The impact of lavender and rosemary aromatherapy on test anxiety in chiropractic students: a randomized crossover study. ACC-RAC Conference, March 19-21, 2020, San Diego, CA.
Schmidt S, Schultz-Enwright P, Nightingale L, Wells B. Prevalence of essential oil usage in chiropractic students: a cohort study. ACC-RAC Conference, March 19-21, 2020, San Diego, CA. (Poster)
Jordan MC, Vande Hei AG, Arends CJ, Sozio RS, Vining RD, Hoyt K, Long CR, Jones W, Taylor BK, Onifer SM. Providing Chiropractic College Students with National Institutes of Health-funded Basic Neuroscience Research Opportunities. Society for Neuroscience Conference, October 19-23, 2019, Chicago, IL.
Contact Research Honors Program Coordinator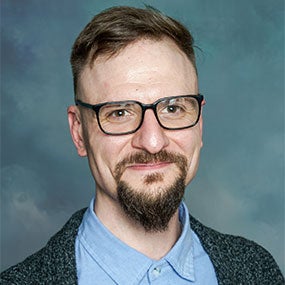 Zachary D. Almquist, MA
Manager of Research Programs
zachary.almquist@palmer.edu
research-programs@palmer.edu
800-682-1625
Posted on April 7, 2022 by Sarah Tisinger.