Throughout Palmer's history, its leaders have met the challenges of the moment. Today, the College's leadership is built for tomorrow.
In April 1906, Daniel David Palmer found himself on the wrong side of the bars at Scott County Jail. The dingy cot creaked as he shifted his weight and stroked his beard, oblivious to the chill penetrating the cell. Anyone else in his position would have paid the fine and hurried to put the debacle behind them. But D.D. Palmer was a singular man.
"At 10 a.m. today, I will have [been] in four days," he wrote from the jail. "I do not know that I ever felt happier in my life."
D.D.'s way of seeing the world had always been unique. Today, history looks back on the Discoverer of Chiropractic not just as an eccentric but as a visionary. His ability to stride forward against doubts, criticisms and hostility were an essential attribute of his achievement.
"I am not in a cell for lack of principle, but for an abundance of principle," he observed. "I am pleased that it has been my lot to be incarcerated for the science which I have devoted so many years to develop."
Just a mile from where D.D. spent 23 days confined on charges of practicing medicine without a license, Palmer College of Chiropractic Chancellor and CEO Dennis Marchiori, D.C., Ph.D. (Main, '90), reflects on an achievement close to the heart of the College's upcoming 125th anniversary celebrations. Palmer evolved from its embattled beginnings to where it stands today, The Trusted Leader in Chiropractic Education®. As complex as the reasons for Palmer's transformation must necessarily be, Dr. Marchiori cites one clear thread running through it all: Palmer has always had the perfect leader for the difficulties and opportunities it faced at any given time.
Fully understanding D.D.'s contribution, explains Dr. Marchiori, means looking back at the state of health care in the late 19th century. "There was no appreciation for the pathophysiology of pain or the interplay of structure and function, which is our focus now. So, when D.D. brought forward his health-care approach and framed the science, art and philosophy of chiropractic, it was definitely outside-the-box thinking. Yet he stuck with it, and that triad he framed for us has stood the test of time."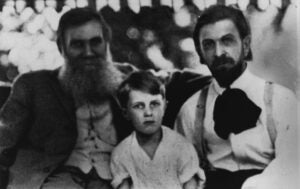 Yet if the same maverick, intrepid independence that resulted in D.D.'s righteous sojourn inside Scott County Jail was what the profession needed to weather its earliest storms, to survive the trials to come it needed something different. By the time of D.D.'s incarceration, his Palmer School was nearly 10 years old, but its enrollment was languishing, its founder's attention diffuse and his influence waning.
As attorney and family advisor Willard Carver once remarked, "Those who know D.D. Palmer know that no man living could become his associate in business and remain with him for any considerable length of time."
That included his son Bartlett Joshua Palmer, D.C., who not entirely amicably took on the mantle of leadership soon after D.D.'s release.
"If D.D. gave us the why, B.J. gave us the what and the how," says Dr. Marchiori. "He really scaled up the organization and the big idea of chiropractic, building a strong, dedicated Palmer community of staff, students and alumni."
Indeed, by the time he opened the school's research clinic in 1935, B.J. had already established a pioneering X-ray lab, a busy printing press and a hugely successful broadcasting operation. He had penned over a dozen books. He had fought legal battles for chiropractic's rights in courtrooms across the country. And he had toured the world promoting the science, art and philosophy being taught to more and more students — up from 13 to 3,000 — back home in Davenport.
What B.J. built wouldn't have been possible, Dr. Marchiori is quick to point out, without his colleague and wife, Mabel Heath Palmer. Like his father, B.J. was a brilliant, dynamic and, in his own way, alienating personality, often at odds with his counterparts in the business community and tight-fisted in his control of the College. By tempering those qualities, Mabel's intellect and emotional intelligence were crucial for driving the Palmer organization and chiropractic profession forward.
"The limelight was always on her husband, as she wished it," wrote David D. Palmer, D.C., of his mother. But "the perpetuation of Palmer School was assured only because of her quiet and firm hand on the tiller." Beyond serving Palmer since its early days as everything from cook to business manager to anatomy teacher, Mabel's "sweetness and diplomacy did much to bring B.J. and his bitter enemies together," noted Dr. Dave. "Her touch was felt across the entire country, thus, assuring continuing support for the school."
For Dr. Marchiori, understanding Mabel is essential to understanding not just B.J.'s contribution to Palmer but also Dr. Dave's. "Looking at Mabel, you get a strong sense of her son — a listener, a communicator, a coalition-builder. Dr. Dave focused on the interface of chiropractic and society, and he put in place many of the things that have made it a lasting profession."
Still, Dr. Dave's first years at the helm of the College were characterized by difficult and often unpopular decisions. When he assumed leadership of Palmer upon B.J.'s passing, he inherited an institution that had been built up well beyond its core capacity as a chiropractic college — to the point of dire financial straits. "It was apparent in 1961," Dr. Dave recalled, "some drastic reorganization was necessary."
That meant shuttering enterprises like the printing press and the Clearview Sanitorium, which together he calculated to be operating at an annual loss equivalent to nearly a million dollars today. "I had to close it for the sake of quality education at Palmer College," wrote Dr. Dave of Clearview.
As he scrutinized the College's balance sheets, though, the Educator of Chiropractic never lost sight of the bigger picture. Even before he took over the presidency, as Palmer's business manager he had begun articulating a vision grounded in his father's and grandfather's legacies but fresh in its focus and clarity: "It was essential that [our students] graduate and attend to the sick people throughout the world. During this time, I had faith, too, in the chiropractic principle… it was a constant reminder that we must survive against adversities."
Once Dr. Dave gained the authority to act on this guiding vision, he began charting a course toward what would prove much more than mere survival. In 1964, he incorporated Palmer as a nonprofit institution, paving the way for the College's eventual accreditation and its fruitful partnership with alumni, evidenced early on by the fundraising drive to build the new Alumni Auditorium. "This effort not only constructed the building," Dr. Dave wrote, "but also awakened a giant power in the alumni."
Along with developing the face of the Palmer Main campus, Dr. Dave raised the bar for student admissions and faculty hiring, enhanced the curriculum to emphasize the full spine as well as the extremities and cultivated Palmer's business relationships in the Quad Cities.
New presidents like Virgil Strang, D.C. (Main, '51), Jerome McAndrews, D.C. (Main, '56), Donald Kern, D.C. (Main, '58), and others continued to advance the College in the decades following Dr. Dave's death in 1978, expanding Palmer's footprint from California to Florida and conceiving investments at the Fountainhead.
But Dr. Dave had left behind a new model of executive decision-making with which those leaders shared responsibility: the Board of Trustees. With Vickie Anne Palmer, H.C.D. (Hon.), chairing the board for 21 years and continuing to serve as trustee and secretary general, the modern era of Palmer's history marks a shift in emphasis from family business to complex nonprofit organization.
"Today, we have an elite board responsible for setting the strategic direction of the College," says Dr. Marchiori. "As chancellor, I lead with the administration in setting the tactics and strategies that move us in that direction. It's a much more team-based, collaborative approach, and Palmer will persist as a successful organization because of the decisions we're making today — and the inspirational vision that guides our future."
What is it that makes today's leadership model sustainable? Dr. Marchiori points back to the idea of the right leader at the right time and what he cites as the contingency theory of leadership, which holds that one's effectiveness as a leader is contingent on their selected approach to navigating existing circumstances. While D.D., B.J., Mabel and Dr. Dave all possessed the unique strengths needed to meet the challenges of their moments, those strengths risked becoming weaknesses when the moment (and its challenges) inevitably shifted.
Now, with a chancellor and CEO with deep roots at Palmer working alongside Board Chairman Trevor Ireland, D.C. (Main '70) and a talented team of trustees and administrators, Palmer College has the breadth of shared experience and leadership to interpret and respond successfully to future challenges.
The team that will lead the College forward is much greater than Dr. Marchiori and the board, though. All converging around a belief in Palmer's mission and values, everyone, from staff and current students to the largest network of chiropractic college alumni in the world, has a critical role to play in how this 125-year-old institution meets the challenges and opportunities of the next moment — and the next.
"So much power resides in the alumni and donors of our College," says Dr. Marchiori, echoing Dr. Dave's conclusion from a half a century ago. "It's their success, their connection and their investment that create the aspirations of every student who comes here."
It's difficult to imagine what D.D. would have made of it all in 1906. Then again, perhaps the words he wrote from his cell at Scott County Jail say all we need them to: "I remain, as ever, the Discoverer of the science of Chiropractic, and am ready to stand by it."
Posted on May 10, 2022 by Sarah Tisinger.