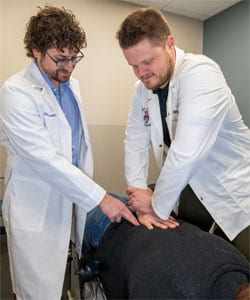 Students from approximately 20 countries arrive at Palmer College of Chiropractic annually, adding to the diversity and culture of our institution. Tynan Flegg, a native of Calgary, Alberta, is one of 32 students currently enrolled at Palmer's main campus from Canada.  
Tynan earned his undergraduate degree in clinical exercise physiology at Fitchburg State University in Fitchburg, Massachusetts. When deciding what was next, he knew he wanted to work with athletes. Knowing he wouldn't have a career as a professional athlete, Tynan laughed, "I didn't make it as a pro, but I still wanted to be involved with sports."  
He endured several injuries as a college athlete, playing baseball and participating in short-track speed skating. "The practitioners I worked with were good, but I felt like the process of healing from these injuries could have been better," Tynan said. "I wanted more." 
After looking into a few different paths to care for athletes, chiropractic stood out. "I was primarily between physiotherapy (physical therapy) and chiropractic, but I liked the scope of practice for chiropractic better," Tynan said. "Palmer has a good track record and there are actually a lot of Palmer graduates in the Calgary area that highly recommended it to me."  
International students choosing to attend school in the U.S. have slight differences with their admissions process. Tynan was already familiar with it since his undergraduate degree was completed in the U.S. For him and many others, transferring to another Student and Exchange Visitor Program (SEVP) accredited school, like Palmer, isn't difficult. They work with the designated international student admissions counselor to ensure they complete all required steps to attend Palmer in the U.S. Beyond the admissions process, these students continue to be advised throughout the duration of their degree to help maintain their student-status. "The most important thing as an international student is to be organized," Tynan said. There are even scholarship options specific to international students and possible loans from a student's home country. 
"By the time I came to Palmer I was already familiar with the U.S.," Tynan said. "There wasn't a big cultural change coming from Canada. The Quad Cities, especially, were easy to adjust to being a mid-sized area. It was easy to build a social network and find my way around." Currently, 70% of the international students on our main campus come from Canada. Tynan joked, "Although I do think it's important to learn some basic laws as an international student. In Canada, the pedestrian always has the right-of-way, and I made that mistake when crossing a street when I first came to the U.S.!" 
Tynan's advice to incoming students is "make sure that you're truly ready to come into Palmer and hit the sciences hard. Chiropractic education, in a lot of ways, is like drinking through a firehose. If you aren't 100% committed, it's going to be more of a challenge. You can't be burnt out from your undergraduate schooling, so take a trimester break if you need to before you start. Set up a solid support network and start implementing healthy lifestyle factors way ahead of time. Do what you can to avoid burn-out and set yourself up to succeed." 
Currently, Tynan is in his eighth trimester at Palmer College, main campus. He's working in the Palmer Chiropractic Clinics under Kevin Percuoco, D.C. Outside of school, Tynan enjoys training and powerlifting, going to live music and playing the guitar, and even cooking.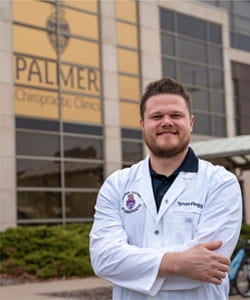 He most recently started a podcast where he interviews professionals in the fields of manual therapy, movement and mindset. "Movement Paradigm Podcast has new episodes weekly with conversations about health, wellness and life," Tynan said. "I interview practitioners to bridge the gap between chiropractic and other professions to create the best team for our patients." So far, he has interviewed complementary practitioners including manual therapists, a yoga instructor, professional athletes, an entrepreneur and a strength and conditioning coach. He's planning to expand to include a physical therapist, osteopath, traditional Chinese medicine doctor, and more. Follow his Instagram for updates. 
To his fellow international students from Canada, he strongly encourages joining the Canada Club on campus. "Canada Club helps prepare students for the Canadian Chiropractic Examining Board (CCEB) exams. It's pretty different from the U.S. NBCE Board exams so it's helpful to study and practice with others that plan on practicing in Canada after graduation."  
Tynan plans to move to Colorado to complete his preceptorship tenth trimester, then work in a smaller clinical setting. "I want to have a personalized approach to care where I can focus more on fewer patients," Tynan said. "I want to combine chiropractic and adjusting with meditation, breath-work, nutrition and more."  
Beyond that he's keeping his mind open. "I'd like to open a small practice someday," Tynan said, "maybe in Colorado, back in Canada, or even Australia or New Zealand."  
Tynan is eager for his future, knowing that this is only the beginning. "When you graduate you're only at the beginning of building your craft," said Tynan. "The learning process starts here at Palmer but will continue the rest of your life." 
Posted on April 8, 2022 by Sarah Tisinger.