Kate McKenzie and the Canadian Connection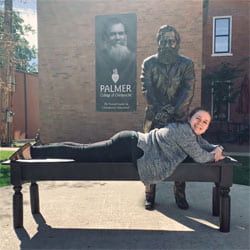 On track to become a veterinarian, Ontario-born Kate McKenzie began experiencing back pain during the senior year of her undergraduate program. It caused her to struggle with breathing, working out, sleeping, sitting and driving. As she laid on the floor one day after school using a tennis ball to relieve some of the tension, her dad suggested seeing the family chiropractor. As a truck driver, he'd been a regular patient for years, so Kate took his suggestion and began receiving chiropractic care. She noticed a 75% improvement after her first adjustment!
Not only was she encouraged by her own outcome, but she was also enthralled with the possibility of one day owning and running her own business. She observed the Doctor of Chiropractic who helped her, her dad, and her grandpa. "Kira Bailey, D.C. was so inspiring, successfully running a female-owned business and genuinely connecting with her community. I thought, 'I want to do that. I want to give back the same way she has helped me and so many others,'" Kate said.
When Dr. Bailey suggested attending chiropractic college at Palmer, Kate called to schedule a tour. "The next day, I was on the phone with Anthony from admissions at Palmer Main. He extended an invitation to visit and from the moment I stepped on campus, I knew it was the place for me. It had a very Canadian feel with friendly people and a close-knit community. I loved everything about it!" Kate was excited to learn that D.D. Palmer was born in Port Perry, Ontario, Canada, only 178.2 km (about two hours) from her hometown of Elora. She's even been to Palmer Park to see his statue!
As she toured the campus, she noticed that everyone knew her campus guide. Everywhere they went, students and professors, greeted her. "I wanted to have that same experience and community connection. Fast forward to the present and I'm now fulfilling my dream of being a campus guide. I love getting to show off our gorgeous campus with its ongoing enhancements, connecting with prospectives by finding out where they are from, hearing their stories, and answering questions!"
When an advisor from Palmer Student Alumni Foundation (PSAF), asked her to speak at this past homecoming, Kate was honored. She spoke at the David D. Palmer Learning Commons dedication alongside Dennis Marchiori, D.C., Ph.D., chancellor and CEO of Palmer College, and Vickie Anne Palmer, H.C.D. (HON.), FPAC. Kate shared how the space has and will continue to benefit students.
"As the Vice President of Alumni Affairs, I was excited to get to meet some of the Palmer graduates I'd been working with remotely and finally put names to faces! We do a lot with alumni so Homecoming and Giving Day are a big deal for us."
Another of Kate's extracurriculars is the Troxell internship program, started by Dr. Larry Troxell in Park View, Iowa at Lawlor Family Chiropractic. on the Main campus(?). "We go through extensive training and once you pass that exam, you get to intern with Dr. Josh Lawlor and his associate, Dr. Brittany Sedar, and their staff. Shadowing chiropractors in real life is incredible, watching how they interact with their staff and patients, how their operation runs from X-rays to exams, the whole nine! We also offer classes or workshops for any Palmer student, teaching them what we've learned from the program," said Kate. She loves it because it allows her to take what she's learned at school (in this case, the Gonstead Technique) and apply her knowledge more extensively in a real-life environment.
To new students, this campus leader advises, "Don't spend all of your time in a book! There are so many clubs, programs, internships, seminars, opportunities to meet doctors, shadow, and so on. Many of these interests and activities can turn into opportunities post-graduation."
She also recommends taking breaks here and there. "Step away from all things chiropractic and just have fun." On that note, Kate is currently studying the Friends TV series after failing a simulation of pop culture characters that her staff doctor had recently put on!
Still a huge animal lover, Kate thinks she'll somehow incorporate her two loves post-graduation, "I'd like to get into chiropractic care for animals."
Posted on April 8, 2022 by Sarah Tisinger.