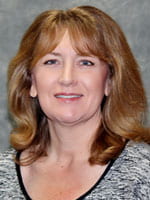 Tammi Clark, D.C. (West '94) has been named Dean of Clinics at Palmer West. During her 22 years at Palmer West, she's taught a number of courses including the management of complex capstone clinical evaluation courses. In conjunction with her teaching roles, she also actively participated in many administrative committees and was extensively involved with the development and administration of student and curricular assessment.
"I am excited to be more involved with the clinical aspect of the curriculum at Palmer West. I feel it's vital to student and intern success to have a fully integrated academic and clinical education, and I hope my experience can further enhance that mission. I look forward to watching our interns put their knowledge and skills into practice to provide excellent care in our Clinic, and then go on to join the ranks of exceptional Palmer chiropractors."
"Personally, I enjoy clinical outreach and international travel, having provided chiropractic care in Mexico, Fiji, India, Costa Rica, and Laos, as well as providing care to the inmates at San Quentin prison," says Clark. "I also enjoy gardening, hiking and adventure."
"I'm excited to have Dr. Clark join the administrative team at Palmer West," says Greg Snow, D.C., Dean of Academic Affairs and Senior Campus Administrator, Palmer West. "I have every confidence that the wealth of experience obtained from her various faculty roles will translate into successful, innovative leadership of Palmer West Chiropractic Clinics."
Posted on July 27, 2022 by Sarah Tisinger.