Two generations of chiropractors show their passion for ensuring the future of chiropractic at Palmer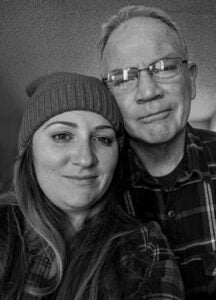 Art Durham, D.C. (Main, '75) recalls his time on campus in the '70s fondly. "I remember the unity, 'spizz' and family feel of the chiropractic student family."
Following a dancing injury that left her in extreme sciatic pain, Molly Durham, D.C. (Florida, '17), sought out chiropractic care for relief, and it led her to her career. "I felt so much better after getting adjusted; I gained a sense of clarity on my true purpose in life."
Both generations of Durhams are passionate about ensuring the future of chiropractic stays strong so others can follow in their footsteps.
"Palmer is chiropractic. [Students] find their ultimate purpose of why we're here: to serve, give and love."
Dr. Molly Durham hopes students take time to slow down and appreciate how lucky they are to be chiropractors. "Meditate. Show up. Train hard for those human beings who end up on your table."
Dr. Molly Durham's chiropractic pride drives her support of Palmer College. "I can have a part in continuing to grow and enhance chiropractic—to elevate our profession." Dr. Art Durham shares that he gives to honor his alma mater's place in his life and his daughter's, and to share his pride as a parent.
"Molly's going to make history in chiropractic. Thank god you're a Palmer chiropractor. It's very important to give back to the source of your success and principles you live."
Posted on May 12, 2022 by Sarah Tisinger.